SHAUN SWINGLER:
Ours is an age of obsolescence. Computers, cellphones and televisions seen as cutting-edge today will be, in a very short time, out of date and thrown away as trash. People generate about 40m tons of digital detritus every year and this figure is increasing 4% annually, according to a 2012 International Labor Organization study.
E-waste, comprising all electrical and electronic waste, from cellphones and laptops to air-conditioners and washing machines, is the fastest-growing rubbish stream in the world. Few regions are feeling its effects more than West Africa, according to the United Nations Environment Program (UNEP).
Benin, Côte d'Ivoire, Ghana, Liberia and Nigeria together generate nearly a million tons of domestic e-waste every year, according to UNEP. In addition, developed countries, especially in Europe, are exploiting lax West African customs regulations to dispose of their own techno-trash.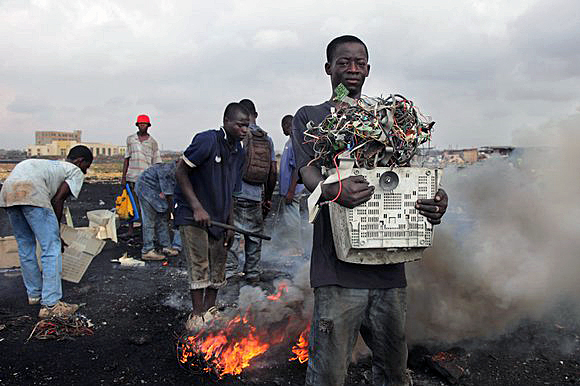 "We in the developed world get the benefit from these devices," said Jim Puckett, head of Basel Action Network (BAN), a US-based non-governmental organization that works to prevent dangerous waste shipments to developing nations. "But when our equipment becomes unusable,
 we externalize the 
real environmental costs and liabilities to the developing
 world."
The group takes its name from the Basel Convention, in effect since 1992, the only international treaty established to prevent the trans-boundary movement of hazardous waste. It makes the movement of e-waste to countries that have not consented to that movement illegal, but imposes neither liability nor punishment. It acts more as a watchdog and a source of principles to uphold when countries draw up legislation.
The convention officially recognized e-waste as hazardous material in 1998, but has not been able to stem its flow into West Africa. While every country (with the exception of the US and Haiti) has ratified the convention, there are numerous, countries guilty of exporting their e-waste into West Africa.
More than 70% of all electrical and electronic equipment (EEE) imported into Ghana is second-hand, according to a 2011 report published by the Basel Convention's E-waste Africa Project, which investigates and tries to solve e-waste problems on the continent. Of this equipment, 30% is not functioning and should be classified as waste although about half of it could be repaired and resold to consumers.
The influx of this waste has been a double-edged sword for the region. On one side, it has driven employment and stimulated economic growth in the recycling sector. In Accra, Ghana and Lagos, Nigeria, this sector provides income to more than 30,000 people in total, reports the Basel Convention's program. In Ghana alone, e-waste generates between $106m and $268m per year in formal and informal income.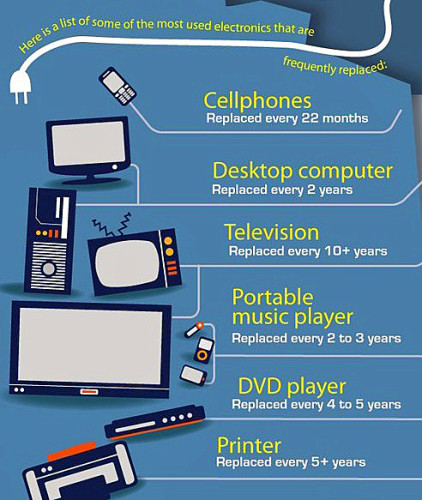 In addition to the economic boost, it has also given people access to rare metals that are found inside many of the discarded electronics. Silver and gold, for example, are used on the printed circuit boards of most electronics, particularly cellphones. If properly harnessed and recycled, e-waste could provide 40-50 times more rare metals than equivalent deposits mined from the ground, according to a 2012 UN University report. Copper is also found in abundance in appliance wiring.
On the other side, West African countries lack the capacity to safely and effectively recycle all their e-waste, according to the Basel Convention's Africa project. Across the continent, only Kenya, Nigeria and South Africa have formalized strategies and facilities appropriate to the task, according to the report.
When comparing the pros and cons, the scale tips towards the negative: e- waste's effects on the health of the environment—and the health of those who process this waste informally—are dire (refer to chart at the end of this article).
Take Agbogbloshie (see also separate article in this issue of AHN: "No Country for Boys")), for example, a suburb in Accra, one of the worst affected areas in the region. Living conditions in Agbogbloshie are difficult. Inhabitants are often poor migrants from rural northern Ghana, looking to squeeze income out of the tens of thousands of tons of e-waste that travel through this area each year, according to a 2008 Greenpeace study.
Most Agbogbloshie residents attempt to make a living by extracting saleable metals such as copper, aluminum and gold from the waste. Most of these recyclers are children between the ages of 11 and 18, but some are as young as five, according to the Greenpeace study. They rip out wiring from appliances and, after burning away the insulation, sell the exposed wire to scrap-metal buyers. They also break copper yokes off television tubes, the shards of which contain lead, a neurotoxin, and cadmium, a chemical known to damage lungs and kidneys. Plumes of acrid-smelling smoke rise all day from the four-acre digital dumping ground.
Researchers from Japan's Ehime University investigated contamination in the Agbogbloshie area. Their 2012 study found that the levels of copper, zinc, lead and tin were "extremely high" in residual ash, a result of workers burning the wires they had collected to extract valuable metals. They also found "moderately high" levels of bromine, arsenic and mercury, highly toxic elements which find their way into the ground, air and water supply.
The study stressed that the concentration of many of these elements is at "serious toxic levels", particularly for recyclers who might ingest the poisonous metals through the soil.
According to the US Environmental Protection Agency, exposure to moderate levels of mercury will result in neuromuscular problems such as muscle atrophy and weakness, poor cognitive functioning, headaches and tremors. Higher concentrations can kill
A 2008 study by 
Hong Kong Baptist University scientists published in Environmental Science and Technology detailed the negative effects of an e-waste recycling plant in southern China. The plant drastically increased the amount of lead present in the nearby village, which was extremely hazardous to residents' health. Chronic exposure to lead can result in harmful neurological effects in children such as learning problems and a lower IQ, the study stated. Higher levels of exposure in children can result in "damage to the central nervous system, blood composition, lungs, kidneys, liver, and even death".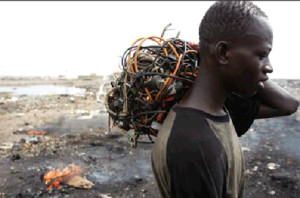 Of the EEE Ghana imported in 2010, 85% was from Europe, predominantly the United Kingdom, 8% was from North America, 4% from Asia and 3% from various other countries, according to the Basel Convention's report. Used EEE is often declared "private goods", "second-hand goods" or "for charities" in ports in Amsterdam and Antwerp to circumvent procedures designed to prevent the exporting of e-waste, according to the report.
In addition to the Basel Convention, the OECD expressly forbids the movement of e-waste to non- OECD countries without the consent of the appropriate authorities of the importing country. But few countries in Africa, as mentioned earlier, have any policies dealing with e-waste. In addition to Kenya, Nigeria and South Africa, Ghana and Côte d'Ivoire have drafted national e-waste strategies.
At a regional level, the Bamako Convention, a 1991 treaty now signed by 33 African countries, prohibits the import of any hazardous waste onto the continent. Unlike the Basel Convention, which bans the unauthorized movement of waste without the consent of the receiving country, the Bamako treaty bans the import of e-waste into its member countries, according to UNEP.
 In its most recent declaration in June 2013, the Bamako Convention states that its signatory states are determined to stop Africa from becoming a "dumping ground" for the rest of the world—calling the import of hazardous waste into Africa a "crime against humanity". The convention makes the exporting of waste into an African signatory country a criminal act and imposes a strict unlimited liability on the offending country. It is far stricter than the Basel Convention, but with far fewer signatory countries, it has less international co-operation, and less "teeth".
Internationally, the onus has been on exporting countries to take greater responsibility for their waste. In January 2012 the European Parliament approved legislation that applies stricter controls on the exporting and recycling of WEEE, including banning European companies from dumping e-waste outside of Europe. EU countries are expected to incorporate this legislation into their national laws by February 2014. These countries will also be required to recycle 45% of all EEE sold locally by 2016. This will rise to 85% in 2019.
The positive role that technology can play in Africa remains undisputed. Properly regulated, e-waste can help to develop local economies and reduce poverty. But it will take political will—in the developing and developed world—to make sure that legislation is adopted and enforced. Without stringent compliance with the relevant international agreements, e-waste and its many attendant threats will only grow in years to come; and the children of Agbogbloshie, and similar dumping grounds across West Africa, will continue to pay the deadly price.

Shaun Swingler is a freelance multimedia journalist based in Cape Town. He has contributed features to publications such as the Daily Maverick and Rolling Stone. He has also co-authored a non-fiction book about Johan Kotzé, the man dubbed the "Modimolle Monster".