WASTE DUMPERS TURNING TO AFRICA
JAMES BROOKE:
In Koko in this African delta port, where children run barefoot through oil palm plantations and men pilot dugout canoes through mangrove swamps, the arrival of a ship from Europe has often meant disruption.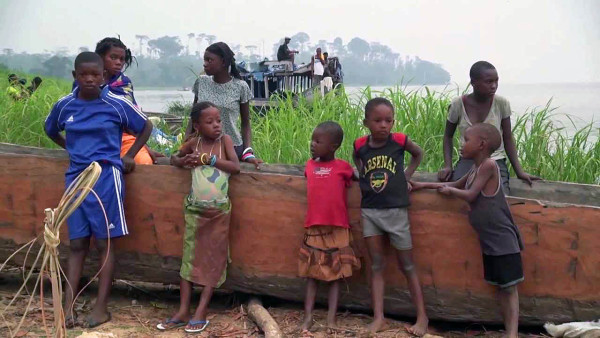 Two local place names recall the first contacts with Europe. Escravos and Forcados are the Portuguese words for slaves and indentured. Today, a collection of steel drums stacked behind a villager's family compound here speak of the latest trade with Europe—10,000 barrels of toxic waste.
As safety laws in Europe and the United States push toxic disposal costs up to $2,500 a ton, waste brokers are turning their attention to the closest, poorest and most unprotected shores—West Africa. Offers for a Dump Site
From Morocco to the Congo, virtually every country on West Africa's coast reports receiving offers this year from American or European companies seeking cheap sites to dispose of hazardous waste. Fees offered African recipients have gone as low as $3 a ton.
Some West African countries rank among the poorest in the world, and the offers have been tempting. In February, officials in Guinea-Bissau signed a five-year contract to bury 15 million tons of toxic wastes from European tanneries and pharmaceutical companies. In return, Guinea-Bissau would receive a yearly payment of $120 million—slightly less than the country's gross national product of $150 million.
North Europe's Waste: Two thousand miles to the south, in Congo, Government officials signed a contract to store a million tons of chemical waste from northern Europe in return for $84 million. But when a furor erupted over what African newspapers now call "toxic terrorism," both African governments quickly repudiated the contracts.
"Dozens of letters from angry readers have been inclined to regard the dumping of toxic wastes as the latest in a series of historical traumas for the continent," read an editorial last month in West Africa, an English-language weekly. The traumas cited were slavery, colonialism and unpayable foreign debts. 'Garbage Dump' for the West.
Similar outrage has surfaced in the pages of Jeune Afrique, the region's largest-circulation French-language magazine.
"It is no longer a secret for anyone that some African leaders, eager to see their Swiss bank accounts grow, would not hesitate to transform the African continent into a garbage dump for industrial wastes from industrialized countries," wrote one reader, Basi Nanchi Ya Rwin-Cin, a Zaire student.
From Niger, which received offers in May from a Dutch company to store chemical waste, Adamou Seybou wrote: "Evidently, the Westerners explain that these wastes, once buried, will no longer be dangerous. If that's true, why aren't they happy to bury the wastes in their own countries?"
In a Nigerian magazine, African Concord, Sam Omatseye wrote: "That Italy did not contemplate Australia or South Africa or some other place for industrial waste re-echoes what Europe has always thought of Africa: A wasteland. And the people who live there, waste beings."
Firing Squad in Nigeria: Outrage is particularly strong in Nigeria, where officials now warn that people caught importing toxic waste will face the firing squad. "We are prescribing the death penalty for any Nigerian, any foreigner, caught in the act of bringing in toxic waste," Duro Onabule, Nigeria spokesman, said in an interview in Lagos. "There will be no concession to appeals from foreign governments."
In another stern reaction, the Ivory Coast adopted a law in early July that provides for prison terms up to 20 years and fines up to $1.6 million for individuals who import toxic or nuclear waste into the Ivory Coast. On West Africa's coast, there are two confirmed cases of toxic dumping, and each has led to the jailing of European businessmen.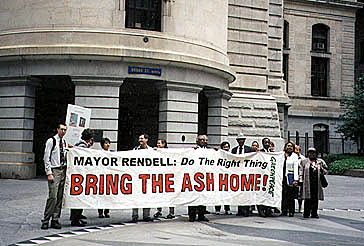 In March in Guinea, a Norwegian shipping company, A.S. Bulk Handling Inc. dumped 15,000 tons of a substance officially listed as "raw material for bricks" in an abandoned quarry on a resort island near Conakry.
Ash from Philadelphia: But soon weekenders from the mainland noticed that the island's vegetation was starting to shrivel. A Government investigation discovered that the material was incinerator ash from Philadelphia, the first shipment under a contract to dispose of 85,000 tons of chemical wastes in Guinea. On July 2, a Norwegian freighter completed removal of the waste. But Sigmund Stromme, Norway's Honorary Consul and a shipping agent in Conakry, remains in jail, accused of being "a brain behind this affair."
Here, in this backwater port on the Benin River, oceangoing ships usually dock here only three or four times a year. But between September 1987 and last May [1988], five ships docked here with loads of hazardous waste.
Their destination was a dirt lot in a residential area off Koko's one paved street. Sunday Nana, who lives next door, said that he first asked the Italian importer, Gianfranco Raffaelli, for a monthly rent of $200. After some haggling, they settled for $100 a month.
Not Told What Barrels Contained: "We were paid 10 naira a day to work unloading the barrels," said a neighbor named Daniel, who was found on a recent afternoon padding around Mr. Nana's compound in rubber thongs. Ten naira is the equivalent of $2.50. Looking at the multicolored steel drums, some of which had fallen over and started to leak, Daniel said that "the white man" never told him what the barrels contained.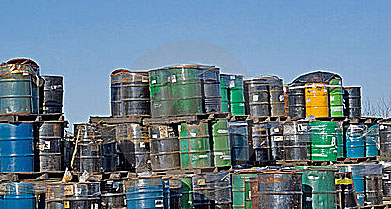 In Lagos, Nigeria's Health Minister, Ransome Olikoye Kuti, said in an interview: "It's terrible because Africans are not very aware of the dangers of toxic wastes. Many of our people are not literate and could easily become contaminated by the waste."
According to a diplomat who talked to a team of experts from the United States Environmental Protection Agency who visited the site last month, the most dangerous poisons are polychlorinated biphenyls, or PCB's.
Leaves a Partner in Jail: On June 2, the day Nigerian newspapers broke the news about the dump here, Mr. Raffaelli, a long-term resident of Nigeria, boarded an airplane for Europe. He left behind an Italian partner, Desiderio Perazzi, who is now in a Nigerian jail.
Two Italian ships are expected to dock here later in July to remove the waste. In June, to press Italy to act, the Nigerian authorities seized an Italian ship in Lagos harbor that had nothing to do with the waste.
According to European environmentalists, the Guinean and Nigerian dumping cases share similar elements with toxic disposal contracts drawn up in other West African countries—the Western disposal companies rarely have track records of safe waste disposal, the proposed disposal sites are not studied for their geological suitability and the receiving countries are not accurately informed.
European businessmen offering disposal contracts to West Africans this year represented companies incorporated in the Isle of Man, Gibraltar and Liechtenstein—places having minimal requirements for incorporation.
Intercontrat, a company which has proposed deals in Guinea Bissau, Senegal and Benin, is based in Switzerland and consequently is exempt from European Community regulations that require countries importing toxic waste to give their informed consent.
Fishing Grounds Susceptible: In Equatorial Guinea, a London newsletter, Africa Analysis, reported in May that the President, Teodoro Obiang Nguema, had approved a plan by a British company to store 10 million drums of toxic waste on Annobon, a small island. The inhabited island is of porous volcanic rock and seepage would have threatened the rich fishing grounds of the Gulf of Guinea if the contract had gone through. Furthermore, the Western companies have not practiced truth in labeling when sending wastes to Africa.
"Complex organic matter" and "ordinary industrial wastes" were phrases used in a 10-year toxic waste disposal contract Benin authorities signed with Sesco, a company registered in Gibraltar. Koko's deadly shipment entered Nigeria under an import permit for "nonexplosive, nonradioactive and non-self-combusting chemicals."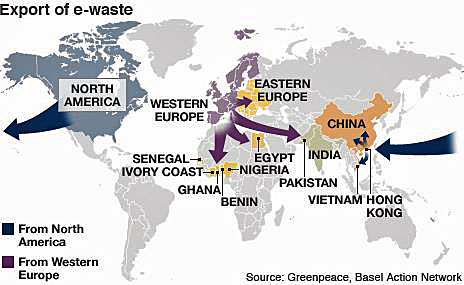 A 'Dump Watch' Planned: Since late May, African leaders have condemned the practice at a series of multinational forums—the AU, the United Nations and the Economic Community of West African States.
In late June, at the West African meeting, each of the 16 member states pledged to enact stiff penalties for toxic dumpers. At the urging of Nigeria, a leader in the anti-dumping campaign, West African countries agreed to set up a monitoring system, a dump watch.
By mid-July, two countries, Liberia and Sierra Leone, had announced discoveries of foreign toxic waste dumps in their territories. Today, dozens of African officials—in Guinea, in Congo and in Nigeria—are in jail on charges of working with European disposal firms.
In the case of Koko, the Italian press started publishing reports of the dump in March, but Nigerian diplomats in Italy apparently never contacted Lagos. The issue only became known here in June when Nigerian students in Italy sent English translations of the articles to Nigerian newspapers.
On a recent visit here, this reporter was detained and questioned for six hours by the Nigerian police. The police seized his film and notes and warned him not to write about toxic waste in Nigeria. Later in Lagos, Mr. Onabule, the Government spokesman, apologized for the local official's actions and said that the Government wants international attention drawn to the problem of toxic dumping in Africa.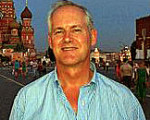 James Brooke an American journalist is currently the Russia Bureau Chief for Voice of America, based in Moscow. For VOA, he writes Russia Watch, a weekly blog. Previously, he worked as Moscow Bureau Chief for Bloomberg. Before Bloomberg, he reported for 24 years for The New York Times, largely overseas.