Lessons From Lee Kuan Yew
By the Editor on April 12, 2015, The Guardian (Nigeria)
WITH elections over and new leaders about to take office in Nigeria, the exemplary leadership of Lee Kuan Yew is a good template for the in-coming class. That Singapore's founding father Lee Kuan Yew who passed on the other day was an architect and builder rolled into one is an incontrovertible fact.
The story of a country and a people changed positively and permanently because of the man's great vision and courage, notwithstanding criticism of his method of nation- building. By the time he died the other day, Lee had cemented Singapore's identity as an economic model.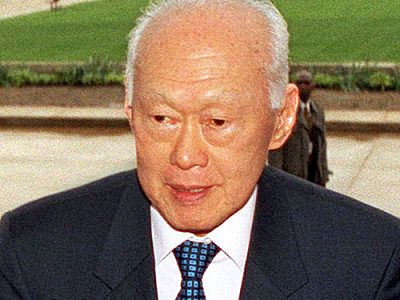 His exemplary, disciplined and ascetic lifestyle, vision and courage now beckon on Nigeria's newly elected leaders for emulation.
A charismatic and cerebral visionary, Lee Kuan Yew co-founded the People's Action Party (PAP), which has governed Singapore since 1959.
He and his protégés in the ruling party maintained tight control over politics and speech, until Singapore had achieved the kind of prosperity that Lee had cited as a reason for limiting free expression and multi-party democracy.
In the latter stages of his life, however, the country's 5.6 million people appeared to be increasingly uncomfortable with one-party rule and growing income inequality.
In an election in 2011, despite formidable obstacles, opposition parties got 40 percent of the vote, though a much smaller share of seats in Parliament.
That 'setback' led Lee into the final stage of retirement before his death at age 91. He had moved in 1990 from prime minister to "senior minister" – a position from which he continued to exercise significant influence, down to "minister mentor" in 2004. He left the cabinet but remained in parliament.
His place in history, however, is unassailable. As a leader, Lee was a shining example of hard work, doggedness, believing in something and dying for it.
He led with single-mindedness and honesty of purpose. Under him, as he served as the city-state's prime minister for 31 years, Singapore was transformed from a small port city into a wealthy global hub. The Cambridge-educated lawyer led Singapore through merger with, and then separation from Malaysia – a split he described as a "moment of anguish".
He thereafter pledged to build a meritocratic and multi-racial nation even as he knew that his tiny Singapore had no natural resources. A new economic model "different and better" than those of neighbours would then be his goal.
The strategies of investing in quality education (creating a highly educated workforce, fluent in English), reaching out to overseas investors with incentives to turn Singapore into a manufacturing hub and making the country a centre for the oil refinery industry worked wonders. When President Barack Obama described the architect of Singapore's economic powerhouse as "a true giant of history", there is no doubt that Lee earned the compliment.
Lee Kuan Yew's mission of building a nation was so single-minded that it, of course, had its own price, one of which was tight controls, including a clampdown on the press.
Critics were silenced and opposition leaders found a home in jail. Unapologetic, Lee Kuan Yew, the autocrat could not have put it better than he did when he once said that: "Nobody doubts that if you take me on, I will put on knuckle-dusters and catch you in a cul-de-sac."
Between being loved and feared, he always believed Machiavelli was right when he said: "If nobody is afraid of me, then I am meaningless." Interestingly, by the standards of Southeast Asian autocrats, Lee was not the typical tyrant.
He did not brutalize and impoverish his country, and he has been far more successful at turning Singapore into a developed nation than other strongmen in neighboring Malaysia and Indonesia.
A firm believer in meritocracy, his government decided "what is right" even way back in 1987 and he had a zero tolerance for corruption. His ministers were the world's best-paid, ostensibly to attract talent into government from the private sector and curb corruption. Lee got many things right, especially his choice of economic managers.
The size of government was kept small, the economy open; regulation was decidedly 'simple, transparent and effective'. The World Bank's "ease of doing business" rankings always had Singapore at the apex. Admirers would be absolutely right to say that the most important reason for Singapore's remarkable success was Lee Kuan Yew himself – the incorruptible one who kept a clean government.
A visionary, he was able to navigate economic landmines to bring his country to prosperity and respectability. There was not much access to volumes of money but he deftly exploited what was available, fine natural harbor and strategic position on the Malacca Strait, to transform his nation. Singaporean students benefitted from a programme of being educated at the best schools in the world and this social engineering saw the emergence of so much intellectual capacity and a huge human capital.
Lee may not have worked alone to make his country a wealthy, orderly, efficient and honestly-governed one but he played an enormous part as a true leader. He remains even in death an enduring lesson for all, especially the class of 2015 in Nigeria.