'DON'T RUSH CONSTITUTION'
By REBECCA MUSHOTA, April 11, 2015, Times of Zambia
PRESIDENT Edgar Lungu has urged Zambians not to rush in enacting a new Constitution but first sufficiently deliberate on issues contained in the draft copy. President Lungu said there was no need to rush in enacting the Constitution because matters not adequately dealt with would haunt the nation in future.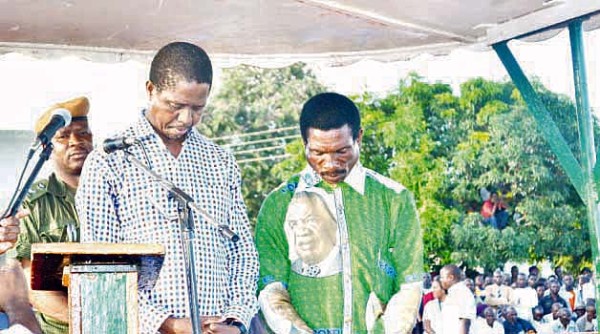 The President was speaking when he met chiefs in the Levy Mwanawasa Stadium meeting room yesterday.
Mr Lungu was responding to a question raised by Chief Nkambo.The chief was asking President Lungu to address a proposal in the Draft Constitution to strip chiefs of their powers over traditional land and instead place it in the hands of the President.
The Head of State said it was because of such issues that he was suggesting that the country should not rush to enact the new Constitution.
"Some of the contents are toxic, Mr Lungu said. We need to sit down and discuss them, please give us time to study the document," the President said.
President Lungu, however, said it was unfortunate that whenever he made such a proposal, some people thought it was a gimmick to withhold the Constitution.
The President said he had no intention to do that and that he would take the Draft Constitution to a referendum immediately if that was what people wanted as his role was to serve people by doing what they wanted.
He cautioned that there was need to be wary of some contents because they could be abused in future.?Speaking in Lamba, President Lungu said there was a clause that wanted to guarantee all rights which some people could later abuse to champion gay rights.
Mr Lungu also said he would look into the matter raised by Chief Nkana that Kagem was interfering in traditional land and subsequently people's livelihoods.?President Lungu said he was aware that matters pertaining to that were in court and he would investigate the issue without prejudicing the court.
He said his Government was taking schools, clinics and other infrastructure to all parts of Zambia regardless of which produced the most profitable natural resource.
The President said he had travelled to China to get financing to complete infrastructure development projects started by late President Michael Sata who he described as a person who was crazy about development.
"If we say this goes to North-Western Province because it produces diamonds then we are defeating the One Zambia One Nation," he said.
Mr Lungu also urged Zambians to be proud of their heritage and financially support their chiefs.
Earlier, Senior Chief Chiwala said the chiefs were proud of President Lungu and that he had their full support.?Chief Chiwala said he was confident that since the President was a product of Copperbelt rural, he would consider the plight of the chiefs.