Is Obama really "concerned" or stirring concern?
People's Daily (China), April 11, 2015
BEIJING, April 10 — Barack Obamahas thrown a damp towel over warming relationsbetween China and its neighbors with a funny theory about China being a bully in theSouth China Sea.
Visiting Jamaica, the U.S. president said Washington is "concerned" China is using its"sheer size and muscle" to force countries into subordinate positions.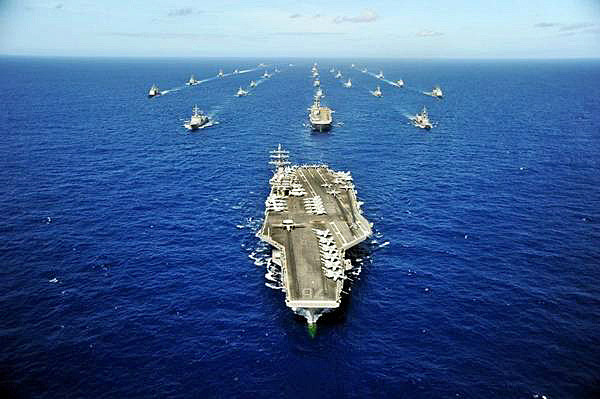 Concurrently, Vietnamese Communist Party chief Nguyen Phu Trong is paying a visit toChina. In talks with Chinese leaders, Trong said the two nations should carry on a"brotherly and comradely" relationship. This can hardly be characterized as a subordinaterelationship.
Claims that China is elbowing aside the Philippinesor Vietnam sound silly and ignorant,but they do not come as a surprise, as Washington's propaganda merchants never miss anopportunity to hype up a "China threat" and try to pit countries against China, animaginary opponent threatening U.S. supremacy in global politics and military affairs.
Talking about muscle, the United Statesis undoubtedly much stronger than China. Takinga general view on provocative U.S. comments about the South China Sea, it's more the casethat the world's biggest muscleman has always bullied China, which is struggling tosafeguard its own sovereignty.
Washington has repeatedly breached its commitments of not taking sides over tensions inthe South China Sea. Moreover, it has practised double standards regarding theconstruction works by China and other countries in the Nansha Islands, despite Chinahaving clarified its land reclamation is aimed at defense and improving civilian services.
Obama said, "We think this [issue] can be solved diplomatically". While he is thinkingabout diplomacy, China is practising it.
Nguyen Phu Trong's China visit at the invitation of President Xi Jinping, as theVietnamese side said, has been a great success. Trong and Chinese leaders have had in-depth, frank discussions, and reached important common understanding on some majororientations and measures.
Through friendly discussion, the two sides are making their relationship more healthy,stable and sustainable. There is no dispute that can't be solved with such sincere,independent communication.
As an outsider, the United States should respect China's sincerity in solving the disputesthrough direct negotiation with the countries concerned and do more to contribute toregional peace and stability, rather than stir the quiet waters by mischief-making wordsand deeds.