Namibia: No private businesses for ministers
By Shinovene Immanuel, 2015-04-13, The Nambian
THE next five years could prove difficult for ministers who run private businesses and for those who do not want to declare their assets following President Hage Geingob's stern warning.
In his address during the opening ceremony for the induction of Cabinet ministers, permanent secretaries and governors in Windhoek on Thursday, Geingob advised ministers that the days of being a government official on one hand and a businessperson on the other, should end."One area usually suffers and most often it is the official work that lags behind. This is why as political officials, we declare our interests in order to ensure that as public officials and stewards of the public trust, we should continue to put the public's interest before our own."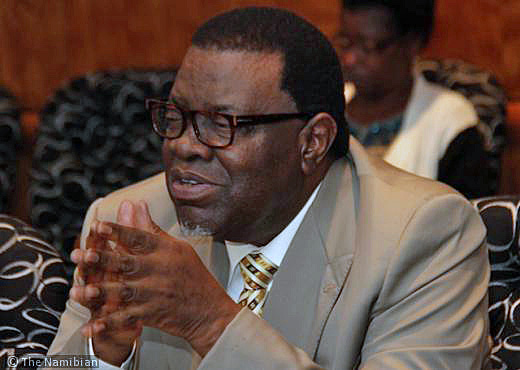 Members of parliament have not declared assets since 2009. Several of them have accumulated wealth through interests in several companies, including state controlled natural sectors such as diamonds and fishing.
It is not clear whether permanent secretaries who preside over State contracts worth billions of dollars will also be forced to publicly declare their assets.Geingob warned them saying: "Some of you have been paid salaries since 1990 but still say you have nothing to declare and claim to be poor. Declare your assets properly. I will catch up with you if you don't."
In the past when he was the Swapo chief whip in parliament, Geingob admitted that he was a 'consultant' for a mining company and 'advised' the government to award the firm a licence. The middleman job earned him N$2,5 million. He was also one of the few politicians who have been open with their assets and business interests when he declared his assets in 2009.
Geingob said there is a negative culture among officials who are happy with just sitting in offices and being content with "mediocrity and unproductivity".
He urged his executives to turn the government system into excellence.
"We cannot achieve this if we lack the passion for our work," he said, giving the example of the 20/80 rule in the corporate world. "Twenty percent are work and result orientated while 80% belong to the "Thank God it's Friday" club. Obviously if we want to win the war against poverty we cannot have an 80/20 culture in government," he said.
The President also put a moratorium on foreign trips by Cabinet ministers until further notice. He said Netumbo Nandi-Ndaitwah in her role as minister of international relations was the only one whose foreign trips were not bound by the moratorium.
He expressed dissatisfaction that he had received five applications by ministers who wanted to undertake foreign trips, two weeks after their appointed. Of the five, he said, he approved only two.Geingob did not mince his words when he said some officials were going on foreign trips to claim travel allowances instead of prioritising public interest.
"I would like to announce that no outbound travel requests by ministers will be approved for the time being," he said, adding that ministers should first travel nationwide.
"Only once the ministers understand the scope of poverty and the needs of our people, will they be able to travel overseas and seek the necessary assistance and opportunities to help fight the war on the home front.
"This is why I have decided to take all Cabinet ministers on regional visits, starting with Tsumkwe and surrounding areas as well as the Kunene Region. It is important that as government, we adopt a serious approach to the war on poverty from the onset," he said.
Geingob himself was criticised last year for going to Cuba, Canada, United States, Belgium and China. The then Ministry of Foreign Affairs defended Geingob at that time saying the trips were important for Namibia's development.
WASTAGE
Geingob also spoke on the high salaries of parastatal executives and those of suspended executives who are still being paid, adding that the recently created ministry of public enterprises will probe the troubles of boards and management of 84 parastatals in order to avoid wastage of state funds.
The President challenged anyone who can develop a plan to cut costs and reduce wastage in government to come forward. "The winner will receive a prize. So the challenge is out; it is time for the critics to put the money where their mouths are," he said.
The former Prime Minister also advised ministers to read the SMS pages in daily newspapers."I urge you all to pay attention to these in order to gain a perspective on the level of expectation that is out there," he said.
Geingob said that ministers should follow the platform in order to comprehend the high public expectations.
"Why not? They (the public) are saying, it's 25 years now. You must deliver," he said.