Pakistan minister hits out at UAE over Yemen criticism
AFP, Sunday 12 Apr 2015
Islamabad on Sunday hit out at the United Arab Emirates for condemning a parliamentary vote by Pakistani lawmakers to stay out of the conflict in Yemen, in a rare display of discord between the two allies.
Pakistan's parliament on Friday passed a unanimous resolution backing the government's commitment to protect Saudi Arabia's territory from Shiite Houthi rebels, but declined Riyadh's request for Pakistani troops, ships and warplanes inside Yemen.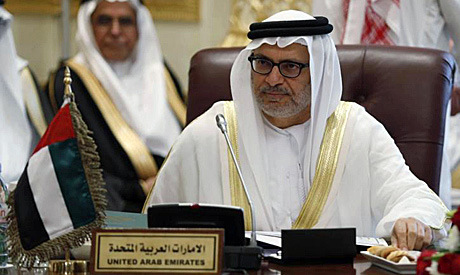 Anwar Gargash, the UAE's minister of state for foreign affairs, lashed out at Pakistan's vote on his Twitter account Saturday, terming it "contradictory and dangerous and unexpected", and accusing Islamabad of siding with Iran, which is accused of backing the rebels.
He added Pakistan's stand would come at a high cost.
Pakistan's interior minister Chaudhry Nisar Ali Khan hit back on Sunday night in an unusually strongly worded statement, accusing the UAE of "making threats".
"This is not only ironic but a thought-provoking moment that a minister of UAE is hurling threats at Pakistan. The statement of the UAE minister is in stark violation of all diplomatic norms prevalent according to the principals of international relations," he said.
"Pakistan is an honoured nation and has brotherly emotions for the people of UAE along with Saudi Arabia, but this statement of an Emirati minister is equal to an offence against the ego of Pakistan and its people and is unacceptable."
Pakistan was the first country to recognise the independence of the UAE in 1971 and the two Sunni Muslim-majority countries have close economic ties.
The UAE is a major investor in Pakistan, while around 1.4 million Pakistani expatriates work in the Gulf state sending home remittances that are vital for the South Asian country's economy.
Islamabad has found itself in an awkward position on Yemen. It has deep military and religious ties to Saudi Arabia and has long benefited from the oil-rich kingdom's largesse.
But it has been reluctant to become ensnared in a conflict that carries sectarian overtones, with violence against minority Shiites on the rise at home in recent years.
Moreover, the large Pakistani military is stretched, maintaining a heavy presence on the border with arch-rival India as well as fighting against Taliban militants in the northwest.
Instead, Pakistan has pushed diplomatic efforts in the past week, holding talks with Turkish and Iranian officials to try to forge a way ahead.
Pakistan's parliament vote is not binding, but Prime Minister Nawaz Sharif said last week that any Pakistani participation would need the backing of parliament.