Ten years later, and we still don't know who assassinated Lebanon's leader
By Robert Fisk, Sunday 12 April 2015. The Independent (UK)
So why is the court tasked with the inquiry going after a journalist?
International courts have a rather dodgy reputation. They are vast, they gobble up lots of money, they accuse all kinds of people of war crimes – usually people the US would like the courts to prosecute – and they also bumble around and have a tendency to behave in a self-righteous manner.
The Special Tribunal for Lebanon – still floundering in its inquiry into the murder of ex-prime minister Rafiq Hariri 10 years ago – is now set on prosecuting Lebanese journalist Karma Khayat and the local Al-Jadeed television station in Beirut for contempt of court. Not that Khayat had anything to do with Hariri's assassination, or "terrorism" or anything so bloody.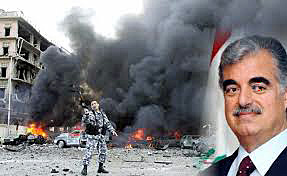 Her trial begins in The Hague on Thursday and revolves around whether or not she and her station revealed details of tribunal witnesses in 2012, information which, she says, must have been leaked from within the tribunal itself about people whom she did not directly identify. Now, Lebanon is a very dangerous country for witnesses – they tend to get blown to bits or otherwise done away with. Military officers working on the Hariri case have been assassinated. Khayat could face up to seven years in prison. She is going to attend the trial (although the tribunal don't know that yet) and is travelling to The Hague on a roundabout route in the coming hours.
Lebanese television is an interesting phenomenon, capable of fantastic journalism, but it's often very sloppy. Khayat herself is a part-owner of Al-Jadeed; the Khayat family includes her father, Tahsin, as chairman and also has a publishing company – which, I should add, has been publishing Arabic editions of my own books on the Middle East for the past quarter century. The family claims they've already spent a million dollars on their defence. I used to call old father Tahsin a "zillionaire" but he tells me that, with legal expenses, he may not be a "zillionaire" much longer. We shall see.
But the tribunal has not exactly covered itself in glory. It has indicted five named Hezbollah members for involvement in the Hariri murder, but Hezbollah told the Lebanese that it had not the slightest intention of handing over the men. One version of the facts was leaked with the names of senior Syrian officers attached, before the UN censored out the names.
In another act of monumental stupidity, an official marched into the Hezbollah-controlled southern suburbs of Beirut in 2010 to check phone records for the post-Hariri period, taking along his laptop containing confidential files. A crowd of Shia ladies (not unconnected to Hezbollah) roughed up the poor chap and grabbed his laptop which has, of course, not been seen since. Lebanese ex-officials suspected of involvement in the original murder were banged up in jail and then released without a word of evidence against them. All in all, a pretty sorry tale.
The International Criminal Court for the former Yugoslavia locked up some worthy criminals but cost far too much – the tribunal for Lebanon has already got through around £300m – and started hectoring journalists who would not bow to its dictates. I was telephoned one day and told by a court official in The Hague that he might be interested in using me as a prosecution witness against a Serb who ran a concentration camp in Bosnia.
When I said that journalists write about people and do not play double roles and become prosecution witnesses later, I was informed that I could be forced to comply. Yet the moment I said that I was not interested in letting the tribunal "choose" which criminals it wanted to try and asked why (the now late) Israeli prime minister Ariel Sharon wasn't indicted for the 1982 Sabra and Shatila massacres, the official lost all interest in me as a prosecution witness. That was the last I heard from him.
Back to the Lebanon tribunal. Why, when it can't imprison those whom it suspects were behind Hariri's murder, is it going after a journalist and her television station for contempt? The tribunal itself – like the former-Yugoslavia court – was partly set up because of public reaction to the war crimes reported by journalists. Such tribunals often owe their existence to reporters. Revealing witness names is a very serious charge, but there is growing discontent within the Lebanese media about both the tribunal itself and the charges against Khayat.
This week – and next week – there will be days of legal argument in The Hague. The tribunal itself says that "freedom of expression is not absolute and journalists and media organisations must comply with the law". But which country's laws are we talking about here? When a French journalist was accused of contempt by the former-Yugoslavia court in 2009 – revealing confidential information was the charge – the reporter bluntly refused to pay the £7,000 fine and the French government refused to co-operate with the court's order. The Lebanese government (such as it is in a country without a president) is supposed to co-operate with the tribunal, but it has neither the power nor the ability to chase down five members of one of the world's most efficient guerrilla armies. And still we do not know who killed Rafiq Hariri…
As for Khayat, I did ask her if she was flying economy or business class en route to Europe. "Business," she said. "At least let me enjoy my freedom for the next few days." Maybe. But I will dare to predict what is going to happen: as always in Lebanon, the whole affair will end in a giant mess in which no side will win and everyone will get egg on their face. That's the Land of the Cedars for you.