Al-Shabaab militants kill 10 in attack on Somali education ministry
Agencies in Mogadishu, Tuesday 14 April 2015, The Guardian (UK)
Witnesses report dead bodies amid scenes of heavy fighting after car laden with explosives rammed gate of ministry building in capital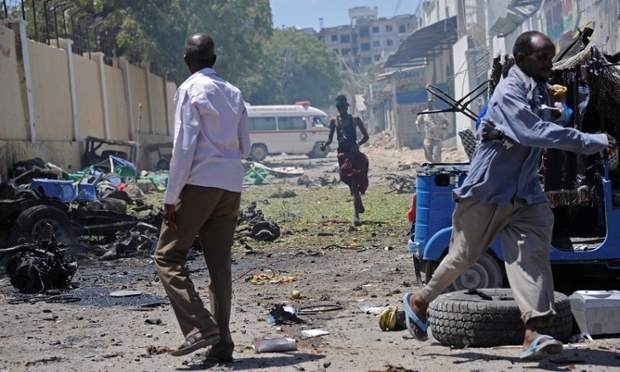 At least 10 people were killed on Tuesday when militants from the al-Qaida-linked al-Shabaab detonated two bombs outside the education ministry in Somalia's capital, Mogadishu, and gunmen fought their way into the building. Seven attackers were also killed, the Somali government said.
Security forces rushed to the scene and ambulances ferried wounded victims to hospitals. Somalia's minister for internal security, Abdirizak Omar, said special forces had secured the building and casualties were "minimal", though witnesses reported seeing dead bodies.
"There were several people lying dead at the scene," witnesses Idil Malim told Agence France-Presse.
Al-Shabaab, who claimed responsibility, have staged regular attacks in the capital as part of their fight against the country's internationally backed government and the African Union forces supporting it. An armed raid following a car bomb to force entry into fortified buildings has become a trademark tactic of the group.
A government spokesman said eight civilians and two soldiers had died, as well as seven militants. Police colonel Hussein Ibrahim said one of the soldiers was with the African Union, which has been supporting Somali forces against al-Shabaab. The Mogadishu government relies on the peacekeepers to guard major buildings.
"AU forces were always inside the building for protection, otherwise the situation would be worse. Now the fighting is over and the building is secured," he said.
The building is in the K5 district of Mogadishu. Smoke could be seen rising over the walled compound, which also houses other government ministries
"First two blasts occurred, a bike blast and a car blast, outside the building, then armed fighters stormed in," Major Ali Nur, a police officer, told Reuters.