Nigerians rally to mark one year anniversary of abduction by Boko Haram, as new president says he can't promise that girls will be found
Reverend Enoch Mark waited for his daughter as long as he could.
For half a year after Boko Haram gunmen snatched 17-year-old Monica from her dormitory in Chibok, he stayed on in the town even as militants repeatedly attacked it, hoping each day she might return.
"I wanted to run somewhere safe, but I had be there when she came back," said the father of eight, whose family is among 276 others who suffered the same fate last April.
On Tuesday, as crowds gathered across Nigeria to mark the first anniversary of the kidnapping, Buhari struck a cautious tone.
"We do not know if the Chibok girls can be rescued. Their whereabouts remain unknown. As much as I wish to, I cannot promise that we can find them," he said in a statement.
"But I say to every parent, family member and friend of the children that my government will do everything in its power to bring them home."
For those caught directly in Boko Haram's bloody dragnet, hopes are painfully high. "Buhari is a strong man, a military man. I know that had Buhari been president when our girls were abducted, they wouldn't have been gone so long. I really believe that," said Samuel Yaga, whose daughter Rebecca is among the missing Chibok girls. "I'm eagerly and honestly hoping for Buhari to bring them back."
Still, the incoming administration's key task may be not just holding onto but rebuilding the territories it has taken back from the militants. More than 1 million are scattered in camps across Nigeria and neighbouring Niger and Cameroon.
Ismail Gava, a resident of Gwoza, which the sect held as its headquarters until last month, said he welcomed Nigerian troops when they entered the town, but soon realised the biggest opportunity was a means to escape – previously forbidden when the town was under Boko Haram rule. "There are bodies rotting in the streets there. At least I can try to make a new life here," said the farmer, who has since moved to a neighbouring state.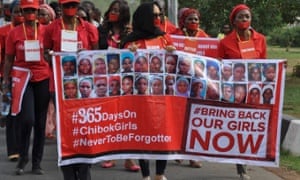 Meanwhile Mark, the reverend whose daughter is missing, has adopted a stoic tone, despite cautious optimism about Buhari.
"I was told my daughter refused to give up when they came for the girls; she said she will rather die than change [convert]. So they marked her," he said.
"If really my Monica is dead because she stood up for herself, then I'm the proudest father and reverend in the world. And if she's alive, I know she will come back."
"After six months I realised I had to move the rest my family somewhere safe, so we left Chibok." He took a deep breath before continuing: "Also, I've accepted it isn't possible that all our girls are still alive. But I'm a reverend. I've buried other people's children, I carry out condolence visits. I have no choice but to be positive because if not, how can I encourage my own community?
The abduction that catapulted Boko Haram into the global limelight was just the tip of almost six years of carnage from a group seeking to impose a caliphate on Africa's largest and religiously mixed nation. Countless other families have been left adrift in a limbo of uncertainty. According to Amnesty International, 2,000 women and girls have been abducted since the start of 2014.
But as historic elections this month ushered in a new Nigerian government, many hope for a break from a past administration often shrouded in secrecy and public blunders in its dealings with the sect. A key challenge for the incoming government of Muhammadu Buhari, a former dictator who crushed a similar religious sect during the 1980s, will be how it handles Boko Haram.
Outgoing President Goodluck Jonathan's failure to decisively counter the threat was a key issue in elections this month, with gains by the Islamist movement forcing a six-week poll delay as a regional force launched a successful offensive to drive them back.
It has been battle-hardened troops from desert neighbours Chad, and to a lesser extent neighbouring Niger, that have taken the lead in expelling Boko Haram from the major towns in the north in just a matter of weeks.