By Fungi Kwaramba, 14 APRIL 2015, Daily News (Zimbabwe) 
HARARE – Former Presidential Affairs minister Didymus Mutasa says President Robert Mugabe is running scared despite maintaining a facade of bravado and resoluteness in public, in the face of the open revolt to his misrule by his former trusted senior lieutenants as well as the deteriorating economic climate in the country.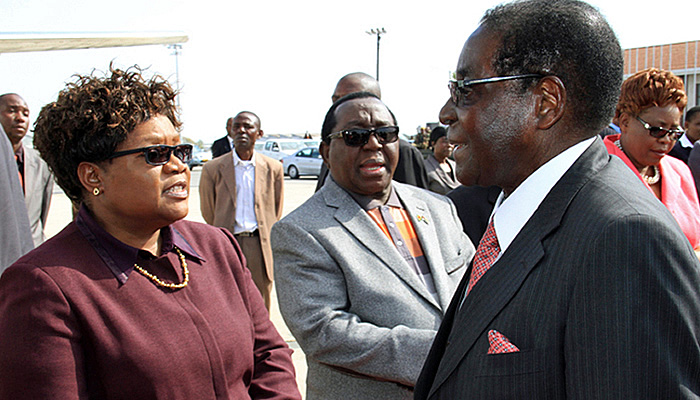 Speaking in an interview with the Daily News yesterday, Mutasa — who knows Mugabe and the workings of the ruling Zanu PF intimately — said the nonagenarian was "scared stiff of people power", as well as the prospects of losing his position.
He added that if hard-pressed Zimbabweans became more resolute and properly organised themselves to mount 'Mugabe is a major mass demonstrations over the country's worsening political and economic crises, there was no doubt that they would manage to pressurise the long-ruling leader to reform because he was "scared of losing his position".
Offering a rare glimpse into the life of Africa's oldest leader, Mutasa said far from the long-held view that Mugabe was a hardliner impervious to the abject poverty of his people, the 91-year-old "has a conscience" but was now surrounded by fawning "yes men who are feeding him with lies".
The fact that Mugabe was now in the "vice-like grip of Mafikizolos (Johnny-come-latelies), Mutasa said, this meant that it was time to force his hand and take him head on "to demand a people-centred government" that could rescue the country from its current myriad problems.
"People should organise themselves and demonstrate because things are getting worse by the day. But the protests should not be violent. I have no doubt that the president will listen because he has a conscience.
"When he is confronted, he is afraid because he loves his position so much," the soft-spoken Mutasa said.
He said with the majority of Zimbabweans groaning under intolerable economic hardships that were spawned by Mugabe's 35 years of misrule, as well as "looting by his ministers", it was time a people-oriented government was put in place.
He also called for the ditching of the ruling party's populist policies such as the "disastrous Look East policy".
"The look East policy makes a few people very rich and then leaves the rest suffering. We have a major problem in our hands as these few, politically-connected rich people are building mansions while the rest suffer.
"Until when there is a change of government, a change of the operating system, people are going to continue suffering. But our people can come forward and demand the better life and two million jobs that were promised through peaceful demonstrations," Mutasa said.
Asked why he was only criticising Mugabe's economic policies now, having enjoyed close to three decades on the gravy train, Mutasa said it had been difficult to do so while he was part of the system.
"I can now complain because I could not complain in the past since I was part of the system.
"There was a time in the 1990s when I complained about Esap (Economic Structural Adjustment Programme) and I was kicked out. So I could not risk that again by raising such sensitive topics," Mutasa said.
In addition to battling the country's ever-deteriorating economy, Mugabe is also wrestling with the open rebellion to his continued rule by senior officials in his party which has seen Zanu PF officially splitting into two distinct and bitterly-opposed formations.
This has seen disaffected party stalwarts — including liberation struggle pioneers, war veterans and security sector bigwigs — coalescing under the principles of the "original Zanu PF" and now operating as Zanu People First.
Well-placed sources say former Vice President Joice Mujuru was set to lead this "original Zanu PF" which would use the slogan "People First" to "distinguish itself clearly from the one led by Mugabe.
Retired, but hugely respected party elder, Cephas Msipa, was among the first prominent party members to warn of an imminent split of the party, going on to criticise Mugabe openly late last year for failing to deal with Zanu PF's deadly infighting and refusing to take advice on the party's escalating factionalism.
In an interview with the Daily News last October, Msipa said pointedly that he feared for the worst for Zanu PF if its ugly intra-party ructions continued to obtain.
"If people continue being dissatisfied with what is happening, it is possible to have a split. I think the president has the key to all these issues. I hate factionalism and if it continues I don't know what will become of the party," he said ruefully.
Msipa also bluntly warned Mugabe that his failure to unmask and stop the party's real factionalists would result in the party splitting into several opposing camps, further attacking the party faction aligned to Mnangagwa for behaving as if it "owned" the divisive Grace — a development that he said was fuelling factionalism inside the party.
Analysts have said the country's political stage was now delicately poised between the two bitterly-opposed Zanu PF formations, as well as opposition leader Morgan Tsvangirai's MDC, ahead of the crucial 2018 national elections.
Sources have also said that many expelled and serving Zanu PF ministers, legislators, Youth and Women's league officials who had been victims of the party's harassment and brutal purges of the past few months, which had been fronted by Mugabe's controversial wife Grace, supported the idea of Zanu PF "People First" and were pushing Mujuru to lead the party.