Soyinka tasks incoming govt on bringing back Chibok Girls
By NAN on April 14, 2015, The Guardian (Nigeria)
Nobel Laureate, Prof. Wole Soyinka on Tuesday urged the incoming government in Nigeria to reinforce efforts to bring back the missing Chibok Girls. Soyinka made the call at a forum organised by Dr Joe Okei-Odumakin, the President of Women Arise, one year after the girls were taken away. The News Agency of Nigeria (NAN) reports that more than 200 schoolgirls were on April 14, 2014, abducted from the Chibok Government Secondary School in Borno State.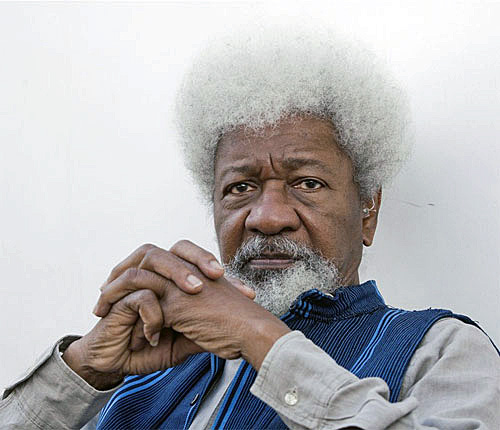 Nigeria's President-Elect, Gen Muhammadu Buhari, had on Monday promised to do everything possible to find the missing girls. Speaking at the forum which held at the Airport Hotel Ikeja, Soyinka urged Nigerians to join hands with the government to ensure that the children were found. "We must make sure that such assault on our humanity doesn't happen again. "The survival of humanity and of the nation must remain paramount," he said.
According to him, terrorism is not a Nigerian phenomenon alone and may not be going away soon. "However, we must not get used to it. Our children are being dehumanised. I believe that our responsibility is to assist by becoming vigilant. "We must become policemen/women; vigilante of our communities. We must encourage others to be protective members of their community," Soyinka said.
Prof. Pat Utomi , in his contribution, said that humanity, the world over, was a shared one and anything that diminished any human and did not touch others was bad. "Terror is not something we should tolerate. We must confront terror and not sit in our homes complaining. "We must stand up to enforce what we demand. The measure of the progress of any civilisation is how they hold the dignity of the human person.
"It's not just about rescuing the girls alone but about staying together and fighting for what is right. "It is however important to recognise that nothing gets done without a strategy," he said. Utomi suggested that plans must be put in place that would help rehabilitate the girls when they eventually return. "Their psyche must have been so tampered with. The nation must ensure that they are re-oriented," he said.
On the just concluded elections, Utomi said: "We can hope that we have started moving forward. "We used to be a people that assumed nothing will change but we are beginning to realise that things can change, so, it is a new dawn for our country," he said.
In her speech, Mrs Funmi Tejuosho, a member of the Lagos State House of Assembly, expressed concern over what the missing girls could be passing through. "These children are lost and we don't know what is happening to them. We must never relent until they are found," she said.
In her speech, Dr Okei-Odumakin, who is also the President of Campaign for Democracy (CD), said that more should be done to enhance security of lives and property in Nigeria. "The whole world stood in unison to call for the return of our girls since they were taken from the Chibok secondary school.
"We will continue to raise awareness and to insist that our military gets better welfare to boost their morale. "We want to tell the terrorists that we can never give up our girls. "We also want to challenge the President-Elect on seeing that the girls are re-united with their parents," Okei-Odumakin said.
NAN reports that Mrs Ganiyat Fawehinmi, Ms Yeni Kuti and some Nollywood stars, among others, were also at the event.