Incendiary SMS targets foreign nationals in Jo'burg
By Mpho Raborife, 15 April 2015, Mail & Guardian (South Africa)
Foreign nationals are pleading with the government to do something after they received smses that "Zulus are coming to kill foreigners".
An Ethiopian street vendor in central Johannesburg told News24 on Wednesday he received SMSes and WhatsApp messages warning that he and his countrymen faced attack.
"It seems that there are attacks planned for Johannesburg on Wednesday: CBD, Hillbrow, Berea and Yeoville. [On] Wednesday, Zulu people are coming to town starting from Market [street] their mission is to kill every foreigner on the road please pass this to all your contacts in case they come people should be on alert [sic]," it reads.  He said shop owners had opened their businesses in the morning, but after seeing people running up and down the streets they began closing again. Seeing police and metro police cars driving around did not make him feel any safer, he said, packing away his T-shirts.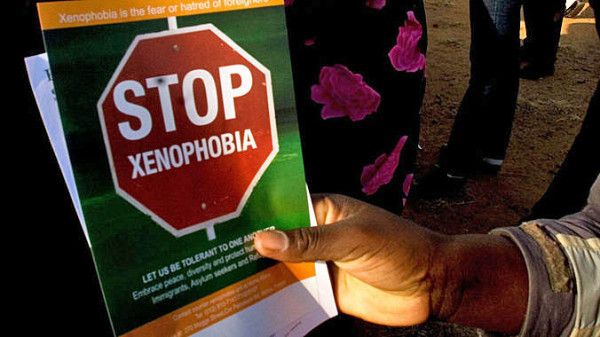 'Govt must do something'
"Everybody is worried," he said. He did not want to give his name. A Nigerian street vendor pleaded for the government to do something. "The president isn't saying anything. This xenophobia thing is coming back again because the government did not do what it was supposed to do in 2008. There is no security here. If anything were to happen, what will they do?" Ntombifuthi (27) from the Eastern Cape, who lives in the CBD, said if government did not want foreigners in the country it should tell them, instead of watching them being killed.
"I'm pleading with the government. If our government doesn't want foreigners then stop giving them visas. How do they expect foreigners to be treated in other countries if we behave like this?" she asked. "Young South Africans, we have to be open-minded, we have to be accommodating to everyone."
'Let South Africans in Nigeria come back'
A Nigerian man said: "A lot of people from South Africa are working in Nigeria. Let them come back here as well." Samuel Andreas, an Ethiopian who had been in South Africa for five years, said he could not go back to his home country. "If the South African government doesn't want us to stay here, please can they help us find refuge in other countries because back in Ethiopia there is war. So we can't go back there. We are helping the economy here."
A more alarming message was circulating in the Durban area following attacks in which five people were killed. It warns people to stay away from the city centre, Tongaat, Verulam, Umlazi, Isipingo, and Kennedy Road. It made claims of a "massive riot going on", "three people dead" and shops being set on fire with people still inside.