Foreign minister says 90% of rescue effort has fallen on Italian navy in recent weeks as 40 more deaths reported after inflatable boat sinks off the Sicilian coast
Italy has called on the rest of Europe to share the burden of the growing migration crisis in the Mediterranean as news of yet another tragedy emerged, with 41 migrants feared dead after their boat capsized just off the Sicilian coast. Four people survived the disaster, according to witnesses who interviewed them.
The demand for Europe-wide action comes just days after 400 people were killed after a boat capsized on its way from Libya, and as the Italian coastguard brought two vessels with an estimated 1,100 rescued migrants on board to Sicily. There were also unconfirmed reports that Italian authorities had arrested 15 people following allegations that 12 migrants had intentionally been killed after a fight broke out on one of the ships.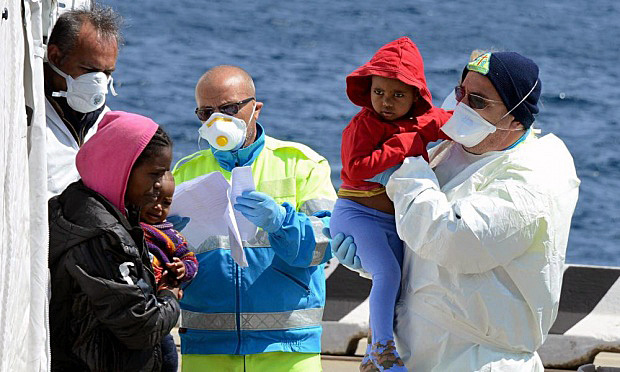 According to interviews with the four survivors of the most recently capsized boat conducted by the Organisation for Migration (OIM), which follows the issue closely, the inflatable boat left Libya on Sunday with 45 people on board and was at sea for four days when the boat capsized. A spokesperson for OIM said it was likely that the vessel had trouble finding the correct route to Italy, given how long they were at sea.
According to the men, who were picked up by the Italian navy vessel Foscari after they were spotted by an aircraft, the boat quickly began losing air forcing the migrants into the water. Italy's foreign minister, Paolo Gentiloni, appealed for help in coming to grips with the humanitarian crisis, saying that 90% of the rescue effort in recent weeks had fallen on the Italian navy, which responds to calls for help from migrant boats in international waters close to Libya.
"The emergency is not just about Italy," he said. "We have a duty to save lives and welcome people in a civilised manner, but we also have a duty to seek international engagement." Another Italian ship, the Fiorillo, arrived in Sicily with about 301 people on board following the rescue of a vessel in distress, and the Dattilo had at least 592 following six separate rescue operations that took place over two days.
Survivors of the disaster earlier this week in which 400 people died said the vessel sank after passengers surged to one side to catch the attention of a passing commercial ship. About  8,500 migrants were rescued in the Mediterranean between Friday and Monday alone. The warm weather and good sea conditions have led to a sharp increase in attempted crossings. According to some estimates, this year's death toll has already reached 909, compared with about 50 deaths in the same period in 2014, when Italy's Mare Nostrum rescue mission was still in effect. That programme has since been replaced by Europe's Triton, a far less ambitious border patrol that monitors incoming vessels within 30 miles of the Italian coast.