Jonathan canvasses global support for Buhari, meets security chiefs, others
By Laolu Akande (New York) and Mohammed Abubakar (Abuja), 16 April 2015, The Guardian (Nigeria)
PRESIDENT Goodluck Jonathan, yesterday, urged Nigerians, global leaders and institutions to support the new government that will be formed by the All Progressives Congress (APC) beginning from May 29, 2015. Jonathan's plea came just as the TIME Magazine named President-elect, General Muhammadu Buhari, and three other Nigerians among 100 influential people in the world.
Those named alongside the retired General are former Minister of Education, Oby Ezekwesili, Nigerian writer, Chimamanda Adichie, and Boko Haram leader, Abubakar Shekau. Also yesterday, President Jonathan, preparatory to the handover of power to Buhari, held a meeting with security chiefs. The meeting was held in the office of the Chief of Defence Staff (CDS), Air Chief Marshal Alex Sabundu Badeh.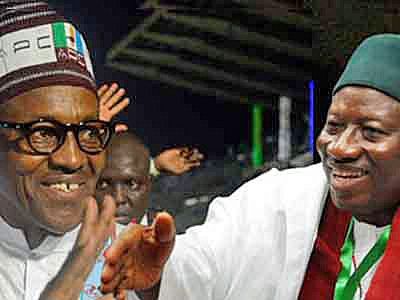 At separate meetings with ambassadors of France, Senegal and Ethiopia in Abuja, Jonathan appealed for patience, understanding and cooperation from all stakeholders in Nigeria and abroad. According to him, Buhari will need the support of everyone to engender a new, peaceful and secure Nigeria. Responding to commendations trailing his exemplary acknowledgment of defeat in the March 28 presidential election, Jonathan said he did so with abiding conviction that the unity, well being and progress of Nigeria must supersede all personal ambitions.
"Democracy has to be nurtured to grow. Strong democratic institutions are the backbone and future of our democracy. They must be protected and nurtured. As for me, as a matter of principle, it is always the nation first. "You need to have a nation before you can have an ambition. It should always be the nation first. You don't have to scuttle national progress for personal ambition.
"Since I assumed duty, I have been involved in quelling political crises in some African countries, and I know what they passed through and what some are still going through. If you scuttle a system for personal ambition, it becomes a collective tragedy,'' Jonathan declared.
Speaking with the new French ambassador, Mr. Denis Guaer, President Jonathan urged France to extend the support and assistance it gave to his administration to Buhari's government.
"President Francois Hollande was our guest in Nigeria during the celebration of Nigeria's centenary. He has been very supportive of the country in the fight against terrorism. I expect that the same warmth and goodwill will be extended to the incoming government. I expect that France will continue to work with the new administration, especially on issues of terrorism.
"The United Nations has been supportive as well. Our troops, supported by regional forces, have done very well in fighting the terrorists in recent times. What we need now is support to help our people get back their lives,'' he said.
The ambassadors commended Jonathan for setting a record of humility, patriotism and courage in safeguarding the democratic process in Nigeria and Africa.
"Nigeria is not only an economic power in the world today, but a great democratic example. And it is all by your effort, Mr. President. The last elections and your response were truly great achievements and you will always be remembered for them," the French ambassador told the President.
Guaer, the new Ambassador of Senegal, Mr. Baboucar Sambe and the new Ambassador of Ethiopia, Samia Zekaria Gutu, who were at the Presidential Villa to present their letters of credence to Jonathan, assured him that they would do their best to strengthen relations between Nigeria and their countries during their tenure.
Among those that attended the security meeting were Inspector-General of Police (IGP), Suleiman Abba, Director-General of Department of State Services (DSS), Ita Ekpeyong, Ministers of Foreign Affairs, Interior as well as Police Affairs.
No statement was issued after the meeting, as they all filed into their vehicles and were driven away.
Ezekwesili had, in the last one year, led the BringBackOurGirls campaign, urging global action for the release of over 200 girls abducted by the Boko Haram Islamist group.
Shekau, whose name surprisingly appeared on the list of those honoured by the Time Magazine, was described as the "Scourge of Africa."
In a brief profile of Buhari, written by TIME's African Bureau Chief, Aryn Baker, the magazine said the former army general made history by becoming the first candidate to oust a sitting Nigerian president, through the ballot box.
"Now, he has to live up to voters' expectations," the magazine said. "From battling the Boko Haram insurgency to tackling endemic corruption, Buhari has many challenges ahead."
The magazine said without Mrs. Ezekwesili, the awareness created about the abducted Chibok girls would have taken even more time.
"Some people will say she is too loudmouthed. The loud mouth is needed. People hear it," TIME said. "Even before she became the champion of the #BringBackOurGirls campaign, Ezekwesili was already a leading voice in Nigerian politics."
TIME also said the Anambra State-born Adichie's greatest power is "a creator of characters who struggle profoundly to understand their place in the world."
TIME's list of 100 Most Influential people in the world is published yearly, to honour leaders, icons, artists and pioneers in different endeavours across the world.