Screws tighten on Mugabe, Zanu PF
By JOHN KACHEMBERE, 16 APRIL 2015, Daily News (Zimbabwe)
HARARE – Faced with mounting national problems — including a collapsing economy, worsening poverty levels and escalating infighting within the ruling Zanu PF — analysts say the end could be nigh for President Robert Mugabe if he does not move quickly to arrest the rot.
These sentiments come as civil service unions who spoke to the Daily News on Tuesday voiced their anger at their deteriorating conditions of work, amid dire warnings by commentators that the signs for Zimbabwe going forward were not good as both the political and economic prospects for the country looked decidedly dim.
Over the past few days alone, hundreds of workers belonging to the Zimbabwe Congress of Trade Unions (ZCTU) have taken to the streets to demand that Mugabe fixes the country's comatose economy and fulfill Zanu PF's 2013 election promises to create more than two million jobs.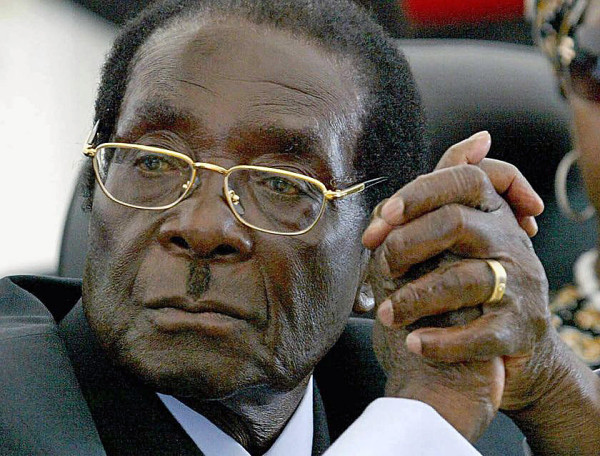 The workers were also protesting against proposed salary and job cuts for civil servants, in a country where the majority of families have to make do with an income of less than $200 a month — which is well below the poverty datum line of more than $500.
In addition, Mugabe's broke government has just announced that it will no longer pay bonuses to its civil servants as the economy — hit hard by liquidity challenges and the closure of thousands of tax-paying companies — continues to decline precipitously.
Finance minister Patrick Chinamasa announced on Monday that the decision to scrape the much-coveted 13th cheque for civil servants would only be reviewed in 2017, a politically convenient time just ahead of the 2018 national elections.
Yesterday, the Zimbabwe statistical agency (Zimstat) said more than 30 100 employees lost their jobs last year in the mining and manufacturing sectors alone, as the country's economy continues to bleed.
"There has been a decline in the number of people employed in the manufacturing sector from 118 600 employees to 93 100 in 2014 and the mining sector from 43 000 employees to 38 400," said Zimstat director general Mutasa Dzinotizei.
At the same time, South African President Jacob Zuma's ruling African
National Congress (ANC) has moved to distance itself from Zanu PF — only a week after Mugabe was in Pretoria on a visit that was given undue ad nauseam coverage by lickspittle State media.
ANC secretary-general Gwede Mantashe said pointedly earlier this week that his party did not share many of Zanu PF's policies and ideological stances.
"When it comes to our attitudes we theorise colonialisation differently to Zanu PF. That is why the ANC government will not use this approach of if a white man owns a farm it is revolutionary to kick that white farmer out and occupy it…," Mantashe said.
This came after Mugabe, while on his two-day State visit to South Africa last week, refused to speak to journalists when he saw a "white face" while taking a tour of the Hector Pieterson Memorial museum, in the sprawling Johannesburg township of Soweto.
Zimbabwe Teachers Association chief executive officer, Sifiso Ndlovu, told the Daily News yesterday that the fact that Chinamasa had said government would only review its bonus position in 2017 meant that Zanu PF wanted to use the bonus as an electioneering tool in 2018.
"What we are seeing here is a government that is arrogant and treats its employees with contempt. We take their proposal to reconsider their position in 2017 with suspicion that they are playing tricks. 2017 is strategic for them in that it is bound to be an election issue," Ndlovu said.
He also accused government of making unilateral decisions, adding that what had irked them the most was that the announcement on bonuses came after a civil servants' meeting with government representatives in a joint negotiating forum meeting last week.
"Such drastic decisions need thorough consultations and such unilateralism flies in the face of the democracy that government purports to champion.
"We were in talks with government only last week where very trivial issues came up when on the sidelines of the meeting was lurking such a fundamental issue. It does not help them as it breeds anger, frustration and general despondency," Ndlovu said.
College lecturers also bemoaned the absence of consultation when the government decided on its bonus position.
"It sends the wrong signal as to how government treats its workers. While we appreciate that the employer is facing challenges, it would have been prudent to engage us first in the national joint negotiating forum but that did not happen.
"We will be consulting our membership as well as meeting as the Apex Council to decide on the way forward," said David Dzatsunga, the College Lecturers Association president.
Dzatsunga's sentiments were also echoed by Mugove Chipfurutse, the organising secretary of the Zimbabwe Nurses Association who said nurses would also convene an urgent meeting to come up with an appropriate response.
"It is shocking if it is true, because there was never communication in the form of a policy circular as is the norm when the employer has come up with a new policy. A 13th cheque is a right not a privilege which they can use at their own discretion," Chipfurutse said.
But Econometer Global capital head of research Christopher Mugaga said doing away with the 13th cheque under the current circumstance was one of the most impressive things that had occurred for the economy in a long time.
"However, one thing that is worrisome in all this is the decision to set the deadline to review the position in 2017 towards election time," he said, adding that this would leave people wondering whether it was not one of the usual populist pronouncements by government meant to win it votes.
"Will the economy have recovered in 2017? What is the rationale of setting the deadline at 2017? Why don't we have the 13th cheque suspended indefinitely until that time when the fiscal space has been freed fully?" he queried.
Mugaga also noted that the suspension of the bonuses had hammered home the reality that there were no jobs, contrary to Zimstat's position that the country's unemployment rate was standing at an improbable 11,1 percent.
"Going forward, I am afraid the minister will be forced onto other austerity measures as the 13th cheque issue will not by itself solve the myriad challenges facing the economy.
"The minister has been reduced to a wages clerk and the next thing he will do is to seek to extend the month to 40 days and it's not healthy for him.
"Bonuses are only for one month, yet Chinamasa must have 12 months a year to pay civil servants and I don't think government has capacity to even pay the salaries," Mugaga said.