South Africa: Swinging guns and fleeing foreigners: What is the state doing?
By Sarah Evans, 15 April 2015, Mail & Guardian (South Africa)
Although the latest outbursts revolve around xenophobia, the state needs to put a stop to all violence in South Africa.
NEWS ANALYSIS
From the varied reactions of politicians to the xenophobic violence to the response of the South African Police Service (SAPS) on the ground, the state's response to the violence is being increasingly scrutinised. A heavy police presence characterised the streets of Durban and Johannesburg this week as xenophobic attacks – and the fear of xenophobic attacks – spread.
Durban's CBD appeared quieter on Wednesday, according to reports, but attacks had spread to Pietermaritzburg. About 800 police were deployed in Durban. In Johannesburg, many shops were closed on Wednesday and police raids conducted amid fears – later proven to be largely unfounded – that foreigners would be attacked. But the state's response – rhetorically and on the ground – is considered reactionary and insufficient to quell the anti-foreigner sentiment that abounds, many experts have said. Analysts say the state's messaging is confusing and have warned of a tendency towards the language of nationalism.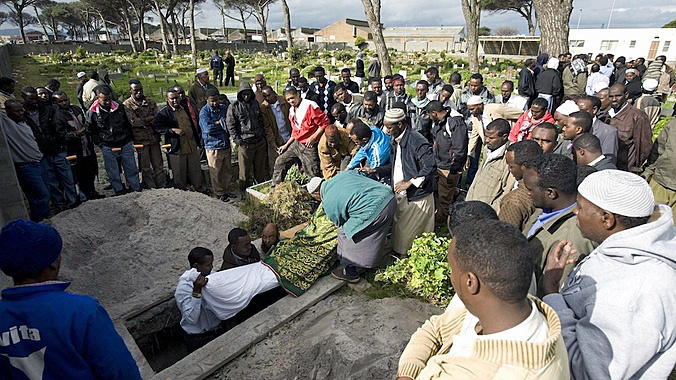 'Unhelpful' rhetoric
Ingrid Palmary, associate professor at the Wits University African Centre for Migration and Society (ACMS), who has written extensively on the subject, said the rhetoric coming from the state was "unhelpful, overall". "What we've seen are contradictory messages from government officials. Sometimes there has been condemnation, but there has also been support for anti-foreigner sentiment, and sometimes inaction. What was needed was a decisive message of condemnation from all sectors of society," Palmary said. But messages would remain ineffective without action, she added.
The language of nationalism and patriotism that often came from the state was problematic, said Lucien van der Walt, professor of sociology at Rhodes University. "Strong nationalism requires a strong enemy. And who is the enemy?"
Side issue
But are the attacks Afrophobic or xenophobic, criminal or organised, and does it matter? While the attacks were clearly xenophobic and criminal, Palmary and others have called this debate, sparked by Police Minister Nathi Nhleko, a side issue. "Right now that's an unhelpful debate. That is not my central concern right now," Palmary said. What is central is the need to stop the violence, she said.
Sanele Nene, political science lecturer at the University of KwaZulu-Natal, said the state response has been badly co-ordinated. "It seems like the state didn't think this would be a problem while it has been brewing for some time," Nene told the Mail & Guardian.
He agreed that the debate over whether the attacks were Afrophobic or xenophobic was a diversion from the real issues. However, he said the attacks were definitely xenophobic, as Pakistanis, Indians and other foreign nationals were also targeted. "Maybe the president should have spoken much earlier," Nene said. "It is at times like this when leadership is required. Some people might think his silence was a condoning of the acts. The president's condemnation would show the world that we do not condone this."
Critical intervention
Nene said it was critical because President Jacob Zuma comes from KwaZulu-Natal.  "He is probably the only person who can rein in the king [Goodwill Zwelithini]," Nene said. "[Zuma's] silence is telling. Either he's unable to respond quickly or he's reluctant to respond." Research conducted by the ACMS since 2005 has revealed high levels of organisation and co-ordination in xenophobic attacks.
Palmary said the brutality of the attacks is indicative of a failure in the transition from apartheid to democracy. "This kind of violence has a long history in SA. It shows the lack of faith that people have in official institutions. These xenophobic attacks were triggered by the Somali shopkeeper shooting the boy. Why did the shopkeeper not call the police when he thought he was under threat? Nobody used official ways to resolve the conflict. That also shows a lack of faith in the system," she said.
Lack of trust in police
Van der Walt said that historically, black and coloured working class communities had very low levels of trust in the police. This had not changed much. "Historically, black and coloured working-class communities have not been given protection from crime. During apartheid, a lot of the police's job was to arrest people, mainly for crimes related to pass laws." This distrust continues today.
"There is a near-complete failure of the state to deal with crime unless it affects the elite. Public trust in the police is exceedingly low. After Marikana, the working-class trust the armed forces even less. "I don't think that a few people walking around with guns is really going to solve anything. It's just putting a lid on it. A much more bottom-up response is required." Palmer said that, according to her research, the belief that foreigners were stealing resources was widespread.
Breeding ground for violence
Van der Walt said South Africa, with its policies on foreigners, poverty and inequality, was a breeding ground for violence. "When there is bitter competition for jobs, spaza shops and so on, that's the context in which these things take hold. The blame should be fundamentally on the state. It's delivered a lot since 1994 but overall we've kept in place a lot of the structural defects that were in place," he said.
"South Africa is a very tough and brutal place for a lot of people. The stakes might seem small – like opening a spaza shop – but for many people that is a massive issue. And so the working class and poor lash out at the working class and poor." Nene said the state should have seen this coming. "We've been hearing of attacks on foreigners for a long time. You can't deploy police to deal with the problem that is far deeper than just its manifestation.
"The proper response is integrating foreigners into society and to address underlying causes. We need to discover how and why these attacks are orchestrated. "This is why you have police intelligence," Nene said.
'Faster reaction'
He pointed out that the police's head office was situated in the Durban CBD where the attacks began. "Their reaction should have been much faster." Nene questioned the police's motives. "Many politicians are not really opposed to this kind of violence. There have been videos of cops standing around watching people loot. This raises questions about the attitudes of the police towards foreigners."
Van der Walt said it was clear that the state was not capable of dealing with xenophobic attacks. He said it was time to consider bottom-up, working class-driven and democratic forms of combatting the issue. These should not equal kangaroo courts, he said, but could mirror the example of Abahlali baseMjondolo. The movement responded to xenophobic attacks by calling for the children of foreigners to be escorted to and from school.
"It's a common response to most protests by the state: move in the troops, so to speak. Raid homes, close down taverns and so on," said Van der Walt. "I know that sounds idealistic, but it's just as idealistic to expect the state to solve all of these problems."