Zuma: Mbeki offered me a R20m bribe
 The president claims in court papers that his predecessor offered him R20m to go quietly.
President Jacob Zuma has effectively accused Thabo Mbeki, then president, of blackmailing him and dangling a R20-million bribe in a failed attempt to get him to quit politics in 2003. The allegation is contained in Zuma's formal answer to the Democratic Alliance's North Gauteng High Court bid to have arms deal corruption charges against him reinstated. The affidavit, filed on Wednesday, was made on Zuma's behalf by his attorney, Michael Hulley.
In the affidavit, Hulley argues that the "first fundamental flaw" of the DA's argument is its view that the National Prosecuting Authority (NPA) withdrew charges against Zuma in April 2009 only because of the prosecutorial abuse revealed in the so-called spy tapes.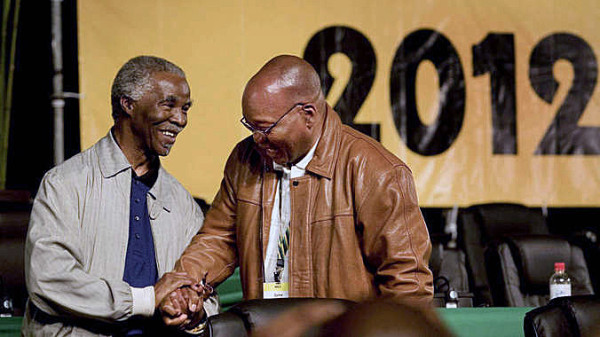 The tapes show that Leonard McCarthy, then head of the Scorpions unit that investigated Zuma, and Bulelani Ngcuka, a Mbeki supporter and former prosecutions boss, discussed when it would be best to bring charges against Zuma. The intention was to improve Mbeki's chances against Zuma at the ANC's December 2007 Polokwane elective conference.
Hulley says the NPA's 2009 decision to drop the prosecution "rests on the reality that whilst the November/December 2007 events may have been the tip of the iceberg, the DA's contention that the iceberg consists only of the tip is irrational".
He details a history of alleged injustice and injury to Zuma by the NPA and Scorpions since soon after the investigation began. The Scorpions's probe of Zuma was revealed by the Mail & Guardian in November 2002.
Hulley states that this "started intense general press coverage, much of it designed to malign" Zuma, and that he was "regarded by many as the unacceptable face of Africa". By 2002, "the Mbeki faction … were determined that Zuma should not become the president of the ANC or of [South Africa] after Mbeki".
Prima facie case
Hulley makes much of one of Zuma's most enduring bugbears: the August 2003 announcement by Ngcuka, then still NPA head, that there was a prima facie case against him but that he would not prosecute him as the prospects of winning were not strong enough. Zuma has interpreted this as an attempt to convict him in the court of public opinion without giving him the chance to defend himself in court.
Hulley states that before Ngcuka's announcement, "Mbeki and [then justice minister] Penuell Maduna met Zuma … and asked him to resign and effectively retire from the political scene. They indicated that there was a formidable case against him in the NPA files. There was very substantial documentation with them. "Unbeknown to them, Ngcuka had told Zuma that there was nothing in the case against him. Zuma said as much to Mbeki and Maduna and refused to resign."
Later in the affidavit, Hulley provides more detail: "It is correct that Mbeki asked Zuma to resign prior to the Ngcuka announcement in 2003. This was a request purportedly based on a huge case … against him (Zuma). If Zuma left quietly, he would not be prosecuted and he would be well looked after financially (a R20-million amount was mooted). "[Zuma] advised them (Maduna was present) that his understanding is that there was no case against him. He refused to resign."
Maduna told amaBhungane this week that the allegation is "laughable. I was never involved in such a conversation," he said. Hulley's claims add meat to earlier talk about an attempt to get Zuma to resign. In Thabo Mbeki: The Dream Deferred, Mark Gevisser wrote that Mbeki "had been briefed about the allegations against Zuma since at least 2001" and that Ngcuka had made his prima facie announcement only after consulting Mbeki.
He also wrote: "Just before Ngcuka made his statement, Mbeki had, in fact, asked Zuma to resign. But by this point Zuma's attitude had hardened, and he dared his boss to fire him. Mbeki blinked …"
Decision not to prosecute Zuma
Deputy prosecutions head Willie Hofmeyr, in an answering affidavit on behalf of the NPA a fortnight ago, made a similar claim. "When I challenged Ngcuka about his decision not to prosecute Zuma, he insisted that he had done nothing wrong. He tried to appease me. He told me that although Zuma would not 'go to jail', his political career would be over … "Ngcuka intimated to me at the time that Mbeki and Zuma had struck a political deal. In return for his resignation, Mbeki assured Zuma that the NPA would not pursue criminal charges against him."
Hulley's allegations take the matter to a new level. As they are made on behalf of Zuma, the information for the first time purports to come directly from one of the parties to the meeting. And whereas they describe what some may regard as no more than the standard rough-and-tumble of politicking, they potentially reveal the serious crimes of blackmail – for if Zuma did not play ball, he would be prosecuted – and bribery – a R20-million payment to leave politics.
But it may also be asked: Why has Zuma, who has sworn to uphold the Constitution, waited all these years to blow the whistle?
Mbeki's spokesperson failed to return calls. Ngcuka has consistently denied wrongdoing. However eNCA quoted an unnamed Mbeki spokesperson who said claims of a R20-million bribe and impropriety were "false from beginning to end".
(Additional reporting by Sam Sole)