Ahram Online, Sunday 19 Apr 2015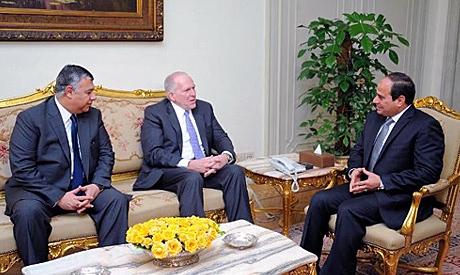 President Abdel Fattah El-Sisi met on Sunday CIA director John Brennan during his visit to Cairo, the Egyptian presidency said. According to a presidency statement, Sisi discussed common interest issues including the latest developments in the Middle East and the war on terrorism.
Egypt supports the US-led coalition against the Islamic State group in Iraq and Syria but has not taken part in military operations. The meeting was attended by Major General Khaled Fawzi, the head of Egypt's General Intelligence and US ambassador to Cairo Stephen Beecroft. In late March, US President Barack Obama released the $1.3 billion military aid to Egypt that was suspended after the ouster of Islamist President Mohamed Morsi in July 2013, in an effort to boost Cairo's ability to combat the extremist threat in the region.