Ethiopia announces 3 days of mourning for IS killings, considers response
AP , Monday 20 Apr 2015
Ethiopia's government on Monday declared three days of mourning after confirming that several Ethiopians held captive in Libya were killed by the Islamic State group, which over the weekend released a video purporting to show the killings. The days of mourning will start Tuesday, when lawmakers will meet to discuss the killings and consider the country's possible response, the government said in a statement.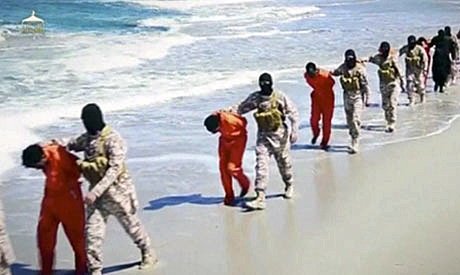 The national flag will also fly at half-staff during the mourning days. A 29-minute video, released on Sunday via social media accounts and websites used by the extremists, shows many Ethiopian Christians held captive in Libya being shot or beheaded by militants. Redwan Hussein, an Ethiopian government spokesman, said on Sunday that he believed the victims were Ethiopian migrants trying to reach Europe.
Abune Mathias, the head of Ethiopia's Orthodox Tewahedo Church, condemned the killings, urging "all Ethiopians to show the perpetrators that their actions amounts to nothing other than a pure brutality." Ethiopia long has drawn the anger of Islamic extremists over its military's attacks on neighboring Somalia, whose population is almost entirely Muslim. While a militant in the video at one point said "Muslim blood that was shed under the hands of your religion is not cheap," it did not specifically mention the Ethiopian government's actions.
The Islamic State video showing the killing of the Ethiopians starts with what it called a history of Christian-Muslim relations, followed by scenes of militants destroying churches, graves and icons. A masked fighter brandishing a pistol delivers a long statement, saying Christians must convert to Islam or pay a special tax prescribed by the Quran.