Mugabe upbeat, but Zimbabweans have little to smile about
By Dianna Games, 13 APRIL 2015, Business Day (South Africa)
ZIMBABWE President Robert Mugabe raised some laughs with offbeat remarks and jokes during his state visit to SA last week. Back home, though, there was little to smile about as the country headed for its 35th anniversary of independence this weekend.
After decades in power, Mugabe presides over an economy that the African Development Bank has described as "fragile".
The bank says Zimbabwe is undergoing "structural regression", the key features of which are accelerating informalisation of the economy and de-industrialisation.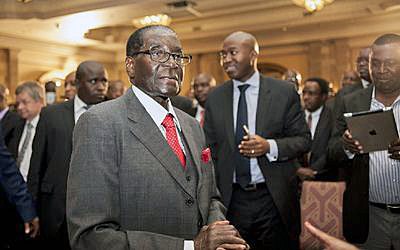 Mugabe's bellicose speech about black empowerment delivered to an applauding audience at a business forum in Pretoria last week failed to mention that about 55,000 people have lost their jobs in the three years to 2014 as 4,610 companies closed their doors, unable to survive the economic ravages his populist policies have wrought.
Mugabe's administration, with few scapegoats left to blame for the state of the economy, still tries to point the finger at sanctions as the reason for its misfortune. While limited, targeted sanctions are in place, many of the world's wealthy emerging markets have no sanctions whatsoever against Zimbabwe, but they are not investing there.
Potential investors cite factors within the grasp of government itself, not sanctions, as the reasons they are unwilling to put their money into Zimbabwe. Among these are policy uncertainty, inefficient and pervasive bureaucracy and the high cost of doing business.
Pronouncements on indigenisation and company ownership are fluid; Mugabe himself added further uncertainty to the situation at the business forum when he made statements that differed from previous declarations on the issue, leaving investors unsure about what will happen once they actually get their money on the ground. This uncertainty has particularly affected mining, which grew only 2% last year, far short of the expectation of 10%.
Despite rising debt and contracting tax revenues, recurrent spending — mostly on salaries for public servants who add little value to the economy — amounts to 80% of the budget. This is typical of the government's prioritisation of political favour ahead of development, in spite of its proclamations of being a champion of empowerment.
The International Labour Organisation says Zimbabwe's unemployment rate is officially just above 5% but the reality is that an estimated 80% of people are either unemployed or operating in the informal economy. University graduates have few opportunities and many end up heading for greener pastures.
Despite last week's back-slapping photo opportunities between Mugabe and President Jacob Zuma, SA and Zimbabwe are not close. Among other issues, Mugabe has frequently expressed his disapproval of the flood of South African imports into Zimbabwe, which contribute significantly to a rapidly widening trade deficit. At a regional summit last year, Mugabe criticised SA openly, saying it saw the rest of the African continent as an open market for its products.
Even as Zuma enthusiastically claimed that economic co-operation between the countries had never been stronger, the Zimbabwean government announced a new pre-shipment inspection regime for goods from SA to prevent, it said, substandard goods crossing its borders.
Zimbabweans have been a lot more vocal about the effect of cheap Chinese imports on their economy than they have been about incoming South African goods, but the government is unlikely to react to this as it is courting China to help it out of the economic doldrums.
Mugabe's statements on empowerment, African unity, local ownership and other related issues are popular in Africa for obvious reasons. But he has, after all this time, had limited success in putting his money where his mouth is. His many excuses for a feeble economy have worn thin in Zimbabwe, where many people still await an "independence dividend" 35 years later.