DECONSTRUCTING THE AUTHORITARIAN STATE IN AFRICA
This month's AHN's Big Story is a sequel to that of the previous issue—Inside the Minds of Authoritarian Regimes. In this supplemental number two themes are debated.
The first article analysis in detail the tragedies wrought by the authoritarian states in our continent. You may consider this part of the story the diagnostic portion. The second sister-article dwells systematically on the cure to this malaise that has afflicted the people of Africa for too long.
The two articles are taken from Reconstructing the Authoritarian State in Africa (Routledge, 2014).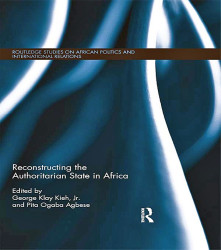 In the Preface to this book, the editors (George Klay Kieh, Jr. and Pita Ogaba Agbese) affirm that the advent of the so-called "third-wave of democratization" in Africa in 1990 witnessed the bubbling of euphoria among various sectors of African societies and those with academic and policy interests in the region. The emergent belief among those excited constituencies was that authoritarianism was in its "death throes", and that Africa was on the verge of a democratic take-off."
However, this sense of optimism underestimated the recalcitrance and the opportunistic proclivities of authoritarianism, particularly its ability to adapt to, and manipulate events. Characteristically, the authoritarian states in Africa were able to develop modalities for massaging and eventually derailing political liberalization.
Against this backdrop, what steps need to be taken to democratically reconstitute the authoritarian state in Africa?