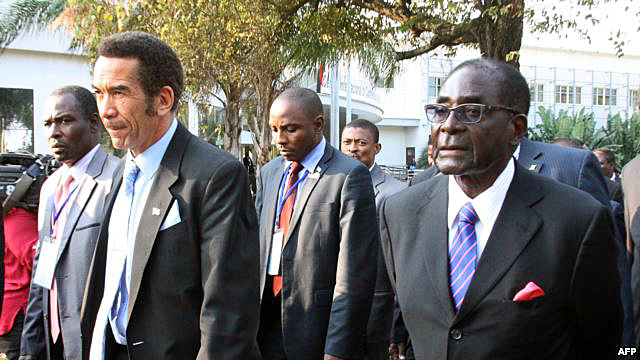 Well-placed sources told the Daily News yesterday that Mugabe, who is current Sadc chairman, watched in consternation as Khama sided with South African President Jacob Zuma as the pair partly blamed the nonagenarian's misrule in Zimbabwe for the crisis regarding illegal migrants in the region. After Khama had launched into an unexpected outburst against Mugabe, which left some of the Sadc leaders shell-shocked, he allegedly stormed out of the meeting and flew back to Gaborone, about four hours before the summit ended.
Wednesday's incident is the latest round of clashes between Khama and Mugabe after the Botswana leader snubbed Mugabe's official opening and closing remarks at the 34th Sadc Heads of State and Government Summit that was held in Victoria Falls last August. The two leaders, who incidentally were elected Sadc chairperson and deputy chairperson respectively last year, have had a frosty relationship going back to more than a decade ago — with Khama, a close ally of opposition leader Morgan Tsvangirai once famously labelling Mugabe "illegitimately elected".
The Botswana leader, who has a military background, has also previously threatened to sever ties with the regional bloc for whitewashing sham elections such as Zimbabwe's disputed 2013 polls. The sources who spoke to the Daily News yesterday told the newspaper that tensions ran high at the summit, leading to Khama leaving abruptly after he had given Mugabe a "thorough dressing down". Khama apparently told the closed-door session that Mugabe needed to "stop burying his head in the sand" over the rampant influx of undocumented Zimbabweans into Botswana and South Africa and take proactive action to stem the situation. This followed heated debate on the causes and possible remedies to the murder of foreigners in South Africa.
Xenophobic attacks in South Africa have seen at least seven foreigners losing their lives in the last two weeks alone, including Zimbabweans. "Khama was really upset, he was fuming. He pounced on Mugabe's rule as having created the immigration crisis which he said was endangering Botswana's security and stretching its resources to the limit. He also said the same situation was prevailing in South Africa," one source said.
Another source said it had been very evident early on in the heated discussion that there was bad blood between Khama and Mugabe.
"Lieutenant General Khama made it clear through his body language and what he later said that he had no time for President Mugabe. It was not a pleasant meeting," another source said.
However, it is said that Mugabe held his own and stuck to his guns, rejecting Khama's accusations — a move that apparently provoked the no-holds-barred exchange that only ended with the timely intervention of King Mswati III of Swaziland.
Khama's contention was that applications for asylum and refugee status by desperate Zimbabweans were piling up in Botswana. He also apparently drew Mugabe into a resources debate arguing that neighbouring countries were being forced to shoulder an extra responsibility to look after Zimbabweans instead of focusing on their citizens.
"Khama told mukuru (Mugabe) that he should address the economic problems in Zimbabwe as a matter of urgency," another highly-placed source said.
The Daily News also heard that temperatures rose even further when Khama said there was a risk of an explosion of xenophobia attacks even in Botswana, arguing that Zimbabwe was in that sense allegedly compromising the neighbouring countries' security.
Zuma apparently told the meeting that his government would work to educate its citizens to be tolerant of foreigners and would keep its security forces on high alert to avert another round of attacks.
Later, a crestfallen Mugabe, speaking in a low and tired voice at a media conference, admitted to the illegal migration problem, although he did not mention Botswana in his presentation.
"I was suggesting that we, the neighbours, must do what we can to prevent more people going into South Africa. If we can do it, we can then try to get those in South Africa home," Mugabe said.
"So people should get back to their own countries. It's not just one for South Africa to resolve but for us, we the neighbouring countries, to resolve. Our people should not have the instinct of rushing into South Africa."
Mugabe said his government had repatriated 800 of its citizens from Durban, but the returnees had openly stated that they wanted to return to South Africa, the most developed economy in Africa and second largest after Nigeria.
"The people who are described as influx into South Africa are not pushed by governments," Mugabe said in a tacit denial of the accusations by Khama.
"They are people who voluntarily go to South Africa. They think South Africa is the heaven, our heaven in southern Africa.
"Long ago, going to South Africa was like going to heaven on earth," Mugabe told reporters after the summit.
"The majority of our people go to work on farms. Then they run away from farms to start new lives in the cities. But why do that? People must get back to their own countries.
"Our people should not have the instinct of rushing into South Africa."
Mugabe said what regional leaders could do in the circumstances "is not just to criticise but also to assist the government and people of South Africa".
By the time Mugabe spoke to the press, Khama had already arrived in Botswana.
But even more problematic for Mugabe, he ended up being caught in a nasty case of ethnic stereotyping at the Press conference when he appeared to single out the Kalanga people for being behind many crimes that were being committed by Zimbabweans in South Africa — remarks that have courted the ire of many people.