The best books on Ethiopia: start your reading here
By Pushpinder Khaneka, F
Our literary tour of Ethiopia covers the traumatic overthrow of the monarchy and the bloody revolution that followed, taking in past and present, fact and fiction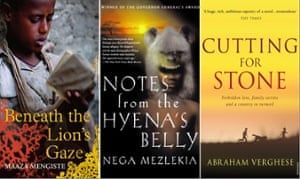 In 1954, a young Indian nun working at a mission hospital in Addis Ababa dies while giving birth to identical twins. Their father, a well-respected British surgeon, disappears, abandoning the boys. Fortunately for the twins, the two doctors who deliver them become their loving, adoptive parents.
This big, bittersweet, beautifully written novel, set mostly around the hospital, follows the family's fortunes over five decades. As the boys come of age, Ethiopia's turbulent politics – executions, rebellions, coups – play out sometimes on the periphery of their personal story and sometimes at its very centre.
The "elder" twin, Marion, narrates the tale, at the heart of which is an act of betrayal that breaks the strong bond between him and his brother Shiva.
When political events take a dangerous turn, forcing Marion to flee to New York, he finds himself becoming entangled with his past and forced to come to terms with it.
Verghese, an acute observer, vividly evokes life at the hospital and in the bustling capital. He delivers a page-turning, emotionally absorbing tale – despite a surfeit of medical detail (the book's title is a phrase from the Hippocratic oath).
The Ethiopian-born author is a doctor who lives, writes and teaches medicine in the US. This, his first novel, has sold more than a million copies.
Mengiste's novel of the early years of Ethiopia's revolution begins in 1974 as student demonstrations and famine lead to the overthrow of Emperor Haile Selassie by the military. She creates an intimate portrait of an extended family, and it is through their eyes that we see the revolution unfolding – and descending into chaos and brutality.
Hailu, a respected surgeon in Addis Ababa, and his elder son Yonas, a university professor, prefer to keep their distance from Ethiopia's violent and dangerous politics. But the younger son, Dawit, is determined to be politically active. Initially, he is a student protestor against the emperor and supports the Marxist junta. Later, when the military begins to crush dissent and sow terror, he becomes a brave and dogged opponent of the regime. Dawit recalls his mother telling him that "hope can never come from doing nothing".
When the military forces Hailu to treat a young woman who has been horrifically tortured, a decision he makes causes him and his family to be swept up in the political storm.
This compassionate, tightly woven tale immediately draws the reader into its unfurling domestic and political drama. It's an impressive literary debut.
Mengiste's family left Ethiopia when she was a child; she now lives in the US.
Mezlekia's powerful and poignant memoir recounts his coming of age in the turbulent decades straddling the ousting of Haile Selassie.
Born in Jijiga, a city where Amhara Christians and ethnic Somali Muslims live in "a multicultural mixing bowl", he has fond recollections of family life and early schooldays. However, the best of times in childhood is followed by the worst of times in adolescence as Ethiopia endures famine, civil war, repression and war with neighbouring Somalia.
As his political awareness grows, Mezlekia joins student protests calling for land reform. But the struggle is to be "long and treacherous". His first spell in prison, where torture is routine, is at 14 – followed by many more.
In 1977-78, the Marxist military rulers unleash their "Red Terror", leaving 100,000 young people dead in the carnage. With "the revolution eating Ethiopia's children at an alarming rate", Mezlekia, at 18, joins an armed rebel group. Ethnic tensions within the group eventually force him to leave, and he slips back into civilian life.
Despite the harsh realities, Mezlekia tells his story – and the story of his country – with wry humour, interspersing facts with folktales. It's a gripping insider's insight into contemporary Ethiopia.
Both his father and his beloved Mam meet violent deaths. Miraculously Mezlekia survives, leaving Ethiopia for Europe and then Canada, where he lives today.