Mugabe is now powerless: Mutasa
By FUNGI KWARAMBA  •  5 MAY 2015 , Daily News (Zimbabwe)
HARARE – Former Presidential Affairs minister Didymus Mutasa says Zimbabwe has descended into "complete lawlessness" and that President Robert Mugabe is now increasingly powerless to do anything about it as the "corrupt vultures" surrounding him have usurped both his Zanu PF and State powers for their selfish and narrow interests.
In an interview with the Daily News yesterday, the former Headlands legislator — who still defiantly calls himself Zanu PF'sClaims 'vultures' have usurped his power legitimate secretary for administration — also said he would only try to engage the embattled nonagenarian when normalcy returned to the country and there was a "visible return" to the rule of law.
Mutasa spoke as the ruling party's deadly factional and succession wars rage on, amid fresh claims that the party's Young Turks are plotting to oust their leaders, including Mugabe and Vice President Emmerson Mnangagwa, from power.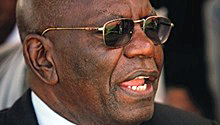 Over the past few months, the party has descended into alarming chaos that has seen it effectively splitting into two distinct and bitterly opposed formations following the brutal purging of party stalwarts that include former Vice President Joice Mujuru and her perceived allies such as Mutasa and liberation war pioneer Rugare Gumbo.
Consequently, the disaffected group has been operating and organising itself in the name of the "original" Zanu PF, using the slogan People First — a movement they claim enjoys widespread support.
"What is happening in Zimbabwe is embarrassing. This idea (by the post-congress Zanu PF) of taking the law into their hands means that there is now no rule of law. Look at the disgraceful land grabs and you will see that there is no security of tenure.
"People just wake up and grab farms, which is a terrible indictment on the party. What is now very clear is that all people who are opposed to this post-congress Zanu PF risk losing their land," said the former minister of Lands and Resettlement.
Mutasa's comments were made after Mandi Chimene, the minister of State for Manicaland, had led the invasion of a farm that was said to be under the control of Mutasa's allies, Mona Agro Farm in Rusape.
In Mashonaland West, Zanu PF thugs have also invaded Temba Mliswa's farm — who is standing as independent candidate against the party in the forthcoming June 10 by-elections after the former legislator was kicked out of the party.
Although Mliswa has sought the intervention of police, they have not made any arrests, leading the voluble former Zanu PF bigwig to conclude that the invasion of his farm was sanctioned by senior party officials who are a law unto themselves.
Mutasa said yesterday that "some people who call themselves ministers are a mess and should be embarrassed by their actions and resign immediately".
Citing the minister of Local Government Ignatius Chombo, Mutasa said the minister typified the worst levels of impunity that were "enjoyed by those on the ruling party gravy train".
"Zimbabweans no longer have any rights in this post-congress Zanu PF system. Look at a person like Chombo, he does as he pleases and the same for Mandi Chimene.
"Chombo is the one behind the invasion of Temba's farm. He wants everybody to kneel down before him because he thinks he is a small god?
"He is currently fighting with everybody and if he fails to find somebody to fight with, he will fight with himself. He is behaving like a bull in a china shop and would be stopped immediately if ours was a normal country," he said.
Asked what it would take to stop the rot, Mutasa said a meeting with Mugabe would be the first step, but quickly added that he would only engage his former boss when the dust had settled.
"I am not in a rush to meet him. I will only try to engage him when the situation is better for both of us," he said.
Specifically asked what it is he hoped could get better, Mutasa — who is suing Mugabe in the country's courts — said, "I will do that when we have assessed the situation. I cannot summon him to meet me but he can".
The softly-spoken and diminutive politician scathingly added that most of the country's public officials were "rotten to the core", going on to bemoan the sad state of the country's politics and democratic credentials.
"Zec (Zimbabwe Electoral Commission) should stop the by-elections in all the areas where there are soldiers and police. Why should Zec stand aside and do nothing when Mliswa's supporters are under fire in Hurungwe for example," Mutasa said.
As a sign of the confusion and anarchy devouring Zanu PF, Mugabe himself admitted at his party's congress late last year that he was being told what to do by his controversial wife Grace — a situation that insiders say contributed to the split of the ruling party.
Analysts have also pointed out that by insisting that they are the original Zanu PF, the People First movement is trying to hit Mugabe where it hurts most because he was not part of the team of liberation pioneers who formed the party.