Rwanda coffee exceptional, says Starbucks executive
By: EDWIN MUSONI, 07 May 2015, The New Times (Rwanda)
The Executive Vice President Starbucks Corporation, Craig Russell, has spoken highly of Rwanda's coffee, describing it as being of "exceptional quality." Russell was speaking to reporters, yesterday, after various members of the Starbucks team representing 22 countries paid a courtesy call on President Paul Kagame at Village Urugwiro in Kigali. "I would rate Rwanda's coffee as exceptional…we are always looking for coffee of exceptional quality and we love Rwandan coffee," he said.
He added that the American coffeehouse company, the largest in the world, was keen on increasing the volumes of coffee beans it buys from Rwanda. Agriculture minister Geraldine Mukeshimana said Starbucks was expected to purchase up to 14,400 sacks of coffee beans. Last year, Rwanda's green coffee production was put at 16,380 metric tonnes earning over $59.6 million, figures from National Agriculture and Export Development Board (NAEB) show. The country targets 26,000 metric tonnes of green coffee that would generate $76 million in revenue this year.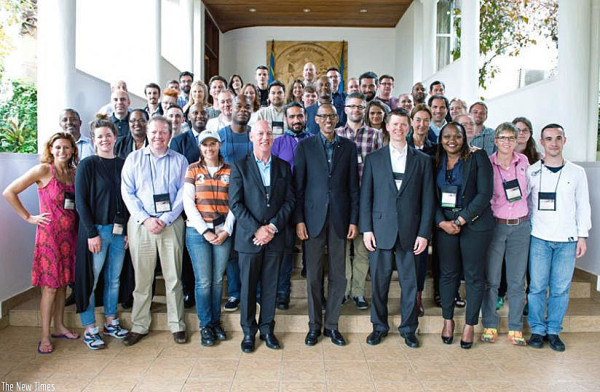 Russell said: "We are going to continue working in Rwanda with our farmer support (services) that we've had since 2008; we will continue to find and purchase more coffee each year, and evaluate the progress of the high quality coffee produced here". On the discussions the visiting Starbucks delegation had with the President, the Agriculture minister said that the President described the partnership with Starbucks beyond coffee business, pointing out that it is also about improving the lives of Rwandans.
Members of the delegation included Mike Sikes, the vice president Business Development for Europe, Middle East and Africa (EMEA); Douglas McDonald, vice president Finance for EMEA; Tiffany Broderson, vice president Global Coffee; Tim Sharrer, Director Global Coffee Trading; James Roth, the Director Government Affairs; and Arthur Karuletwa, the Director Global Coffee. The delegation, comprised of 40 members, arrived in the country on Sunday and will be leaving on Saturday.
Founded in 1971, Starbucks Corporation is the largest coffeehouse company in the world with 21,536 stores in 64 countries and territories, including 12,218 in the US, 1,716 in China, 1,330 in Canada, 1,079 in Japan and 808 in the United Kingdom.
Operations in Rwanda
Starbucks has been purchasing Rwandan coffee since 2004. In 2008, the company opened Starbucks Farmer Support Center (FSC) in Rwanda with the objective of working closely with coffee farmers to increase the yield and quality of their coffee. The centre has since directly impacted over 50,000 farmers. It focuses on sustainability by supporting targeted coffee farmers, cooperatives and private exporters in best agronomy practices, quality, social development skills and accounting systems.
The visiting Starbucks team is in the country as part of their 'Origin Experience Program', which sees Starbucks executives visit locations where quality coffee is grown and processed. The team's last 'Origin Experience' trip to Rwanda was last year during which Starbucks constructed a health clinic in the farmer community of Bicaca Cell, Karenge Sector, Rwamagana District, Eastern Province.
This year, the team equipped a clinic in Nyamyumba Sector, Rubavu District in Western Province that serves seven cells. The Origin Experience aims to provide Starbucks team members with knowledge of farmers' hard work to produce quality coffee and understand Starbucks relationship with farmers and their communities.