Israel 'is racist from the bottom up': country's Ethiopian Jews take a stand
By Annie Slemrodm in Kiryat Malachi, 

Friday 08 May 2015, The Independent (UK)
Sitting in his modest corner shop in Kiryat Malachi, Uri Admo says he was not surprised by the footage that emerged recently of an Ethiopian Israeli soldier being beaten by police officers. "The only difference is this time there was a camera," he says. Kiryat Malachi, roughly equidistant from Gaza and Jerusalem, is home to over 4,000 of the country's Ethiopian Israelis, Mr Admo among them.
Sparked by the footage, protests sprang up across the country, as thousands turned out eager to voice their grievances with Israel's treatment of its Ethiopian population. Protesters clashed with riot police in several days of demonstrations. The government was quick to respond. Prime Minister Benjamin Netanyahu publicly apologised to the soldier and images of their smiling reconciliation were widely circulated. The officers involved were disciplined – one sacked, the other suspended pending investigation.
The Prime Minister also met Ethiopian community leaders, establishing a ministerial committee to tackle racism against the community and issues including housing and employment. But while Mr Netanyahu expressed shock at the  images of violence, for most  of the 135,000 Ethiopian Israelis – less than two per cent of Israel's population – racism and discrimination are old news. "To be Ethiopian here is just hard," Mr Admo, 48, says, fiddling with a coffee scoop. In the late 1970s, Israel granted the Beta Israel – the Ethiopian Jewish communities, who had until the 20th century lived with little contact with other Jews around the world – full citizenship.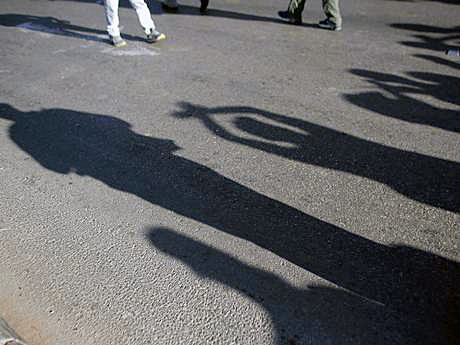 Forbidden by the Ethiopian government from emigrating, in the 1980s and 1990s, many fled to Sudan by foot and were subsequently airlifted from refugee camps in Sudan to Israel. Since then, smaller numbers have emigrated. Mr Admo came over in the first wave, aged just 18. After his mandatory military service, he began a job hunt. "I would call about a job and be invited for an interview. When I showed up and they saw me, every single time they would tell me the manager wasn't there, or 'we'll call you'." They never called. These are some of the common complaints in the Ethiopian Israeli community. The average hourly wage for Ethiopians is around 30 per cent less than it is for the rest of the Jewish population.
A few streets from Mr Admo's shop is a bar with the yellow and red of the Ethiopian flag spray-painted on the door. Inside, Agumas, a 27-year-old who came here at the age of three, puts it simply: "This country is racist from the bottom up."  As a child, he says, the problems aren't so obvious. But somewhere along the way, things changed: "I couldn't get a job in a company that wasn't run by Ethiopians… I get turned away from clubs all the time." His friend Daniel agrees, and says the police assume he is a criminal by virtue of his skin colour.
Both took long bus journeys to join the protest movement, and like Mr Adme, they aren't optimistic about the government's platitudes. Daniel doesn't see enough investment in the communities where most Ethiopians were settled on arrival. "There aren't even enough clubs for young people. You never see a 12-year-old Ethiopian kid learning to play tennis." The Ethiopian Israelis are hardly the only minority group to experience hardship in Israel. But to most Ethiopian Israelis, there is a key difference. They see this as their country. They fight Israel's wars, with many serving in high-risk combat units. Some protesters draped themselves in the country's blue and white flag.
"We are Jews," Mr Admo says. "We grew up learning about the land of Israel, fasting on Yom Kippur, yearning to come here… No matter how bad it gets, this is our country."