Kagame eyes third term in Rwanda
BY SAUL BUTERA, MAY 08 2015, Business Day (South Africa)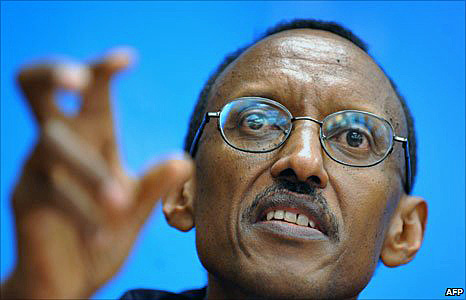 KIGALI — Rwandan President Paul Kagame may extend his rule in the 2017 elections after parliament received two-million signatures calling for a constitutional amendment that would allow him to run for a third term. The East African nation's president is restricted to two, seven-year mandates under the current charter.
Kagame, who has been in power since 2000, said last month that he was open to either staying on or leaving the position "depending on the interest and future" of the country. He did not support changing the constitution to remove the cap on terms, he said. "Kagame, like all heads of state who change term limits, wants to give the impression that he would prefer to leave but is reluctantly staying on for the good of his people," Francois Conradie, political analyst at NKC Independent Economists, said.
The possibility of Mr Kagame running for an additional term with the backing of the ruling Rwandan Patriotic Front bears similarities to the political situation in two of Rwanda's neighbours. In Burundi, the ruling party's nomination of Pierre Nkurunziza to seek a third term in next month's elections has sparked violent protests that have left at least nine people dead.
Another Great Lakes country, the Democratic Republic of Congo saw demonstrations in January when lawmakers sought to change laws that would have delayed elections and extended President Joseph Kabila's 14-year rule.