New Parliament formed in Jubaland
JUBALAND
Jubaland is inching closer to stability after the administration on Thursday formed a national assembly and elected a speaker and deputy speaker. Jubaland whose capital Kismayu was captured by the KDF from Al-Shabaab, in the presence of their President Sheikh Ahmed Madobe and Somalia President Hassan Sheikh Mohamud inaugurated a Parliament which will make laws to govern the Jubaland State.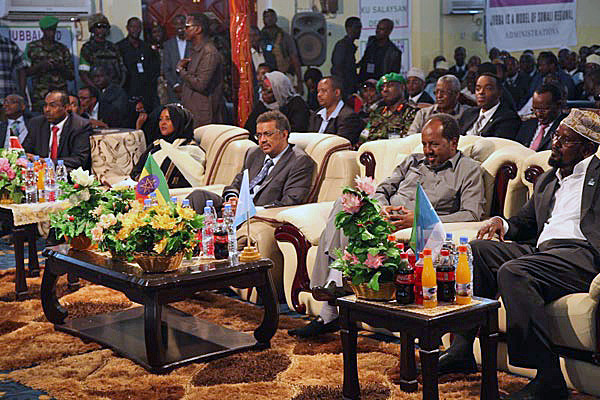 The state has been a site of numerous battles and in late 2006, Islamist militants gained control of most of the region. In 2012, Kenyan soldiers gained full control from Al-Shabaab, and in 2013, they elected Sheikh Ahmed Madobe as their president. The commissioning of Parliament was also attended by Kenya's Foreign Affairs Cabinet Secretary Amina Mohammed, Intergovernmental Authority on Development chairperson and Ethiopian Foreign Affairs Minister Tedros Adhanom and Igad envoy to Somalia Ambassador Mohamed Affey.
"You are our brothers and sisters, we will be with you in every step to a peaceful country," Amb Mohammed told an excited crowd inside the Jubaland National Assembly.
Meanwhile, the African Union Mission to Somalia (Amisom) Force Commander Lieutenant-General Jonathan Rono told journalists that they have captured 80 per cent of the country and needed to leave the country safe before concluding their mission. The commander said there was an ongoing effort to recover the pockets of territory that are still controlled by Al-Shabaab.
"There is a lot of reconciliation going on in other areas like in northern region of Somalia, the area of Puntland, we are headed in the right direction," he said. Amb Affe said that they would leave Somalia in a dignified way. "This land belongs to Somalia and we want to leave them when they are stable. The ultimate desire is for Somali to be in full control. We have no intention of staying in Somalia permanently, we are building their capacity and (will) eventually provide an opportunity for the community to return back to their state," said the ambassador.