Using phrases more suited to tourist magazines and images of luxury yachts, smugglers based in Egypt and Turkey openly advertise services on social media
It reads like the website of a travel agency. "A trip to Italy next week in a big fast tourist yacht," says the Facebook post beneath a picture of a luxury ocean liner. "Two floors, air-conditioned, prepared for tourists. Recommended for families."
But a package holiday this is not. It is the Facebook page of a Turkey-based people smuggler, one of dozens if not hundreds of smugglers using the social network to advertise their services in plain sight. Once contactable only through trusted third parties, now smugglers along the southern and eastern shores of the Mediterranean are openly publicising their phone numbers, prices and schedules on social media to drum up business.
The names of their pages euphemistically conjure images of tourism companies or advocacy groups, rather than smuggling routes that are bearing record numbers of migrants across the Mediterranean.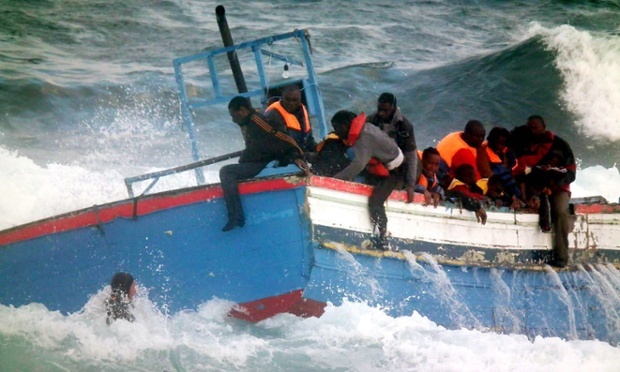 "Asylum and immigration to all of Europe – helping people in immigration and asylum" is the tagline for a second Turkish network. A third group, "Travel aid", offers fake visas and passports, while a fourth smuggler, based in Egypt, calls his group "The way to Europe", and illustrates its page with an image of Moses parting the Red Sea.
Different smugglers use their groups for slightly different purposes. Some simply advertise specific trips (in one network, speedboats from Turkey to Greece are listed as €1,500 (£1,100) per person, and cargo boats to Italy cost €6,500, with children half-price). Several smugglers use their pages to liveblog the progress of their clients across the sea. Other groups constitute a chatroom for migrants to share stories and advice. And many pages are used by smugglers to assuage concerns over migrant safety – with varying degrees of credibility.
"Very safe" reads the slogan overlaid on a picture of a boat used by a well-known Egyptian smuggler, Abu Alaa. It looks old and rusty, but Abu Alaa – a pseudonym that means "Alaa's father" – uses this to his advantage. "It may not look pretty, but it's perfect," he continues. "It's like a good suit you'd wear to a wedding. All its parts are made from iron."
Some would-be travellers aren't convinced. "My brother," writes one woman whose Facebook name is Azza. "Why would anyone use such a boat to travel?"
But Alaa is just warming to his theme. He posts a picture of a luxury yacht, and tries to explain how a boat's aesthetic isn't any indication of its suitability. "How beautiful and splendid," he writes underneath the photo. "But unfortunately it's not safe to use for long distances … It doesn't handle waves. So the look isn't important, my brothers. The insides are what count."
But while Alaa uses his boat's apparent defects to his benefit, other smugglers play down any sense of danger. A Turkish-based Syrian smuggler, called Nasr by his potential clients, attempts to highlight the professionalism of his operation.
Like an aspiring travel agent, Nasr calls his trips "promotions", and promises that families will stay in hotels booked by his network prior to their departure from Turkish ports. And in an effort to highlight the formality of the process, he claims payments are made "in an office".
Then he posts a picture of people reclining in the sunshine on the deck of boat. They're some of his clients, Nasr claims. "The people are having fun on their way to Italy," he observes, "and they are happy."
In reality, migrants say they consume the propaganda with a pinch of salt. People largely use Facebook to source smugglers' numbers, and often take a sceptical view of the smugglers' promises. "Not all of a smuggler's talk is believed," says Hashem, a 40-year-old Syrian who found a range of smugglers' numbers online, ahead of a recent boat voyage to Italy. "Most people get their info about smugglers from relatives and friends."
But a smuggler's page can come into its own as a news source during the trip itself, as anxious relatives scan Facebook for accurate information of the trip's fate. So the smugglers sometimes run an informal liveblog of a boat's journey. "A trip from Egypt is on its way to Italy," wrote Alaa on 15 April. "Now it's out of national waters and everyone is in good health."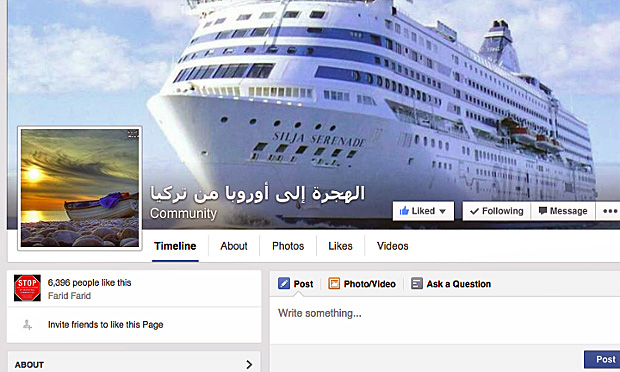 Two days later, he says the boat is a third of the way into its 900-mile journey. "The Mediterranean is excellent at the moment," he writes. "The sea is very calm except the central part near Benghazi and Misrata."
He doesn't mention that the boat returned briefly to Egyptian waters to pick up yet more customers, or that the boat is in danger of getting picked up by Greek coastguards rather than Italian ones. Regardless, rumours of engine trouble soon spread on other Facebook groups, and relatives flood Abu Alaa's page to ask for confirmation.
"Please, is it true about many boats sinking?" asks one. Another adds: "Abu Alaa, they are saying the engine stopped. You are playing with our nerves, someone tell us if it's true."
But Alaa later scotches the rumours, and uploads Viber messages from people on the trip to confirm their safety. "Thanks be to God, the trips from the 13 and 15 April are now with an Italian navy ship," he says. "Many thanks to the website that published lies about the failure of the engine and the escape of the captain."
The Facebook pages may also be a useful source for anyone trying to track the routes and strategies of the smuggling networks. On Turkish pages in mid-December, you can find advertisements for the huge cargo ships that later took Italian coastguards by surprise as they hurtled towards Italian shores in early January. Those long-distance trips have largely stopped, after a crackdown by the Turkish coastguards. But in recent weeks on the same pages, you can now find hints of what new methods the smugglers have adopted.
"Because of the problems with the sea routes from Turkey, we now have land routes to Austria and Germany, in special cars by agreement with border guards," reads one new advert for a trip that costs €9,000.
As ever, any hint of risk is downplayed. "It's secure and safe," the smuggler promises.
Additional reporting: Manu Abdo