South Africa attacks: why are we shocked?
By GODWIN MURUNGA, Saturday, May 9  2015, Daily Monitor (Uganda)
The pictures out of South Africa are gory, depicting a society with a deep seated but repressed tendency to brutality. South Africa is not alone in this repressed tendency. We all have our share. But at the moment, the continent is traumatised, embarrassed and hurting about South Africa. We are numbed beyond words by images of a slit throat, gouged out eye, split-open skull, the burnt body of a child. Many South Africans are totally outraged by this pornography of violence. Indeed, some have joined in protesting.
Prof Jonathan Jansen, the vice-chancellor of the University of the Free State, aptly expressed this outrage by imploring foreigners not to "leave us to ourselves" because, as he put it, "We need you as role models teaching us how to work really hard and succeed in a stagnant economy." But few are acknowledging that Afrophobia is official South African policy, and that it is firmly entrenched in the country's immigration policy. The impression that violence is only a street issue is wrong, just like the focus on unemployed youths in poor neighbourhoods, who have condemned foreigners for taking their jobs and perpetuating crime is only half the story.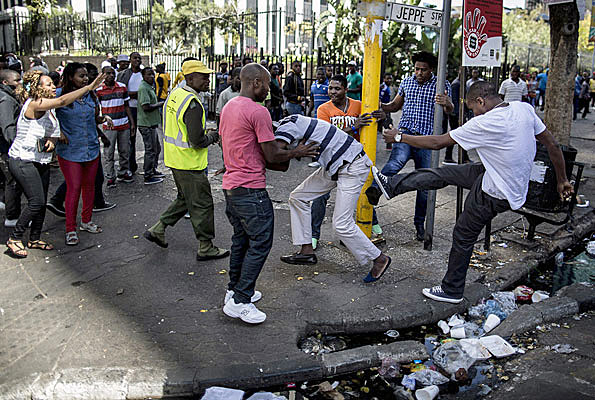 This focus excuses elite South Africans from a phobia in which they are deeply implicated. We are encouraged to blame inequality in the South African society and to chastise the ANC for failing to deliver the fruits of Independence, but the inexcusable words of Zulu King Goodwill Zwelithini, who intimated that foreigners were dirty, crime-prone and should leave South Africa, are excused. South Africa is condemned by history never to have a neatly categorisable citizenship. The region was the arena of complex pre-colonial population movements called the mfecane as state formation processes unfolded.
Frontline States
The more recent apartheid-instigated movements forced many South Africans to move across the region all the way to far-off places such as Tanzania and Nigeria. This has added a layer to an already complex citizenship story. In other words, the history of migrations in this part of the world has been so intense and complex that it contradicts attempts to evict Zimbabweans, Zambians, Malawians, or Mozambicans using a citizenship measure. The people's lineages are interlocked across multiple countries and their languages resemble each other.
Just recall the adventures of Mzilikazi and Shaka or the similarities of Isizulu and Isindebele as languages or the biography of Chief Albert Lithuli. Need we be reminded that Jacob Zuma lived in Maputo in the 1980s and Mozambique lost Samora Machel to apartheid? Given the affinities in the region, and the historical role that African countries played in sustaining the anti-apartheid struggle, how do we talk about Afrophobia?
Given that some of the attacks by the apartheid regime targeted civilians in frontline states in retaliation for accommodating or funding Mkhonto we Sizwe, it is tough explaining the current brutalities. But an explanation is needed. The official source of the Afrophobia in South Africa is in Pretoria. Police Minister Nathi Nhleko correctly identified it as "a particular political problem because you don't see Australians or Britons being chased on the streets and similar demands being placed on them to leave the country."
In South Africa itself, shopkeepers dish out Afrophobia in the manner in which they harass foreigners. Most do this in the name of South Africa's immigration policy. They are suspicious of African immigrants and act with a surprising level of energy to mark foreigners out.
Free State
It is not therefore surprising that a foreign student at the University of the Free State remarked that he "did not experience any racism on campus but that [he] did encounter xenophobia." I have seen it in Pretoria many times where a shopkeeper will take a foreign visitor or student through numerous hoops simply to buy a Sim card. An ID or proof of residence is not enough. At the African Leadership Centre, out of the four students who wanted to take internships in South Africa in 2014, one Nigerian was denied a visa after visiting the embassy in Abuja many times, while the other was given a three-month visa for a six-month internship.
It took two months for the visa application of the Kenyan student to be processed, while the Ugandan had to petition the SA embassy in Kampala twice for the visa to be issued. In the wake of the new immigration laws, the South African embassies claimed they were reorganising the system to better serve applicants. Instead, they were making it harder for Africans from the dreaded North to travel to South Africa. For proper effect, they even hired a European agency to help close the door to other Africans.
Africans are hurt to realise their love for South Africa was a rude dream. As the Mozambican author Mia Couto argues, we are hurting because these brutalities are in reality "also aggressions against South Africa itself." Africans are really tired of crying for South Africa. The irony, as noted in the Lusaka Times, is that only three days after the removal of the statue of Cecil Rhodes at the University of Cape Town, South Africans began to murder their own brothers and sisters and "made this soil a monument of hatred for your brother."
Cecil Rhodes must be smiling in his grave.
South Africa Immigration policy
Afrophobia is South Africa's official policy expressed most acutely in immigration laws. The new laws were announced and implemented in May 2014 by the Ministry of Home Affairs and the minister has expressly refused to entertain any idea of revising them. Interested constituencies within South Africa were not even involved in their design. The logic of the laws is not very different from the logic behind the street brutalities. Official South African immigration policy conforms to selective targeting of Africans.
Though Minister of Home Affairs Malusi Gigaba denied "any suggestion that these regulations are part of an Afrophobic agenda to keep Africans, or any nationality for that matter, out of South Africa," in effect, the new regulations have made it harder for Africans to enter South Africa and for those already inside to stay. They require applications to be done in person but you can only change a visa outside the country. Earlier, the South African government had instituted a draconian system for Zimbabweans in South Africa seeking to renew their permits. The new rules cover all permits for visits, work and study.
These rules seem fine until you experience how they have been operationalised internally or by embassies abroad. The embassies have been effective bastions of Afrophobia. There are many anecdotes on this that reveal a pattern in how immigration policy has moved towards the treatment of Africans as aliens. Even internationally renowned persons like Prof Wole Soyinka have been subjected to the idiotic fear of African "aliens." We, of course, remember the incident in March 2012 when 125 Nigerians were deported from South Africa allegedly for holding fake yellow fever certificates. Nigeria responded firmly and South Africa apologised, only to up the game now.
Godwin Murunga is a senior research fellow at the Institute for Development Studies at the University of Nairobi.