'Zanu PF bigwigs wanted to kill me'
By FUNGI KWARAMBA, CHIEF WRITER  •  9 MAY 2015 • Daily News (Zimbabwe)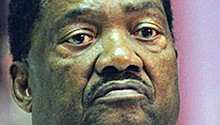 HARARE – Highly-regarded war veteran Rugare Gumbo has for the first time narrated in spine-chilling detail how President Robert Mugabe and Vice President Emmerson Mnangagwa allegedly caused his arrest and inhuman detention in dirty dungeons in Mozambique during the liberation struggle. Speaking in an interview with the Daily News yesterday, an emotional Gumbo said so desperate was his situation at the time that he thought that it was a matter of time before he met his maker — with some of his erstwhile comrades only being restrained from killing him by the late Mozambican President Samora Machel in 1977, who decreed that he "did not want blood on his soil".
Gumbo claimed that both Mugabe and Mnangagwa had intended to deal ruthlessly with the real freedom fighters and in particular leaders of the liberation war council that operated under the name Dare reChimurenga, in their alleged bid "to assume total control of Zanu PF". "VaMugabe has said it before and even Mnangagwa has also said that they arrested us and threw us in pits, but they have not said the whole story," he said, adding that the "current barbarity", raging chaos and brutal purges in Zanu PF were nothing new — and merely "history repeating itself".
Gumbo drew parallels between what happened in exile four decades ago with the anarchy that is currently devouring the ruling party. He said the "contrived" charge by Mugabe and party hawks, who have accused former Vice President Joice Mujuru and her supporters of plotting to oust and kill the nonagenarian, was "definitely not new" but dated back to the liberation struggle era where dissenting voices were silenced "in cruel fashion". Gumbo said the "terrible ordeal" that he suffered in the late 1970s began when he and other members of Dare reChimurenga clashed with Mugabe over the direction of the liberation struggle, leading to his "barbaric detention" together with other comrades that included the late Henry Hamadziripi and Mukudzei Mudzi.
"We disagreed on the treatment of Zanla commanders who had been arrested. The official position was that they would be released after three months, but they did not come. "We also wanted to know what happened in Zambia (including the ruthless quashing of the Nhari rebellion) and this didn't come out. Those were allegations that we were charged with and we were then subsequently arrested. "We were tried before a kangaroo court that was presided by the president himself and they alleged that we were plotting a coup just as they are doing now. We were then thrown in a pit.
"Fortunately President Machel said he did not want blood on his land and thus we survived because of the mercy of Samora. "It was the Zanla commanders and the Dare reChimurenga that mounted the struggle and not Mugabe or the late Edgar Tekere who directed the war," Gumbo said. The blood curling narrative by the former Cabinet minister in Mugabe's government runs contrary to the widely reported views that Gumbo survived the ordeal on the goodwill of Mugabe and the late Vice President Simon Muzenda.
Gumbo said while he would never forget his ordeal, he was no longer bitter about it and would never seek revenge against his tormentors, even though he and his "innocent comrades" had been " treated like dogs". "We spent at least three months detained in holes dug in an open place which were closed from the top at about 5pm and only opened the following morning. "The holes were six metres deep and I think four metres wide. It was hell on earth and we all thought we were going to die. At one point the holes were filled with soil and only our heads were left protruding out, but we all survived the ordeal," Gumbo said.
In February this year, Mnangagwa claimed that Gumbo and his co-accused we arrested and tried for rebelling against the party. "When we tried Gumbo and others in Chimoio, in the bush of course, I was the lead prosecutor. The council found them guilty," Mnangagwa was quoted saying. In the interview, Mnangagwa, who is nicknamed Ngwena (crocodile), said had it not been for the intervention of Mugabe and Muzenda, as well as the application of justice, Gumbo would not be alive today.
But Christopher Mutsvangwa, the minister of War Veterans, told the Daily News yesterday that Gumbo was just an angry man. "I am not going to give any relevance to his rantings. These are the rantings of an expelled figure. He has been expelled from the party twice now. As a party we have more to deal with than listen to him," he said. But a war veteran who asked not to be named corroborated Gumbo's version, saying rebels were marked for death during the war.
And with no end in sight to the ongoing harassment of Mujuru and her perceived allies, Gumbo said he no longer feared death "at the ripe old age of 76" and would not be stopped on his "mission" — be it through intimidation or trumped up charges such as those "false claims" that his group want to kill Mugabe. He also said that nothing would stop Mujuru — an acclaimed war heroine in her own right and whose liberation struggle nom de guerre was Teurai Ropa (Spill Blood) — from standing up for what she believed in.
"Mai Mujuru is a tested war veteran and she will not be destroyed by people who deserted the war like (Information minister) Jonathan Moyo or (Zanu PF political commissar) Saviour Kasukuwere who were toddlers when we were fighting the war. She is resilient and she knows what she does and will not be destructed," he said.