Pentagon mulls sending planes, ships near disputed South China Sea islands
By Phil Stewart and David Brunnstrom, Tue May 12, 2015, Reuters
The Pentagon is considering sending U.S. military aircraft and ships to assert freedom of navigation around rapidly growing Chinese-made artificial islands in the disputed South China Sea, a U.S. official said on Tuesday. U.S. Defense Secretary Ash Carter requested options that include sending U.S. military ships and aircraft within 12 nautical miles (22 km) of reefs that China has been building up in the disputed Spratly Islands, the official said.
Such a move would directly challenge Chinese efforts to expand its influence in the disputed region by literally adding territory through a massive island-building exercise. "We are considering how to demonstrate freedom of navigation in an area that is critical to world trade," the U.S. official said, speaking on condition of anonymity, adding that any options would need to be approved by the White House. Carter's request for the development of options including using the U.S. ships and aircraft was first reported earlier on Tuesday by the Wall Street Journal. The Pentagon and White House did not immediately comment.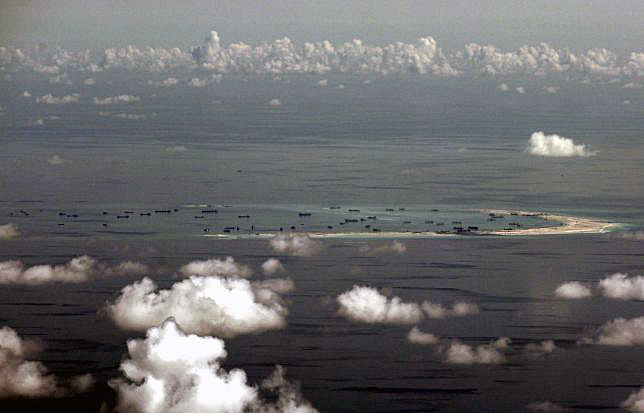 Chinese embassy spokesman Zhu Haiquan said China had "indisputable sovereignty" over the Nansha Islands and their adjacent waters," referring to the Spratlys by their Chinese name. He said China's construction there was "reasonable, justified and lawful." He said China hoped "relevant parties" – an apparent reference to the United States and others – would honor commitments not to take sides in South China Sea disputes "and refrain from playing up tensions." The practice of sending ships and aircraft near the islands would be in line with regular U.S. military "Freedom of Navigation" operations, which it conducted last year to challenge maritime claims of 19 countries, including China.
China drew condemnation from Japan and the United States in 2013 when it imposed an Air Defense Identification Zone (ADIZ) in the East China Sea, in which aircraft are supposed to identify themselves to Chinese authorities. The United States responded by flying B-52 bombers through the zone in a show of force. Five countries as well as China lay claim to parts of the Spratly archipelago. They are Brunei, Malaysia, the Philippines, Taiwan and Vietnam, but China claims nearly 90 percent of the entire South China Sea, a vital shipping route through which $5 trillion of trade passes every year.
In Washington on Tuesday, Philippines Foreign Secretary Albert del Rosario said his country, a U.S. treaty ally, said urgent action was needed. "We are taking the position that we must do something quickly less the massive reclamation results in the de facto control by China of the South China Sea," he said at the Center for Strategic and International Studies think tank.
Reclamation involves adding to existing islands or creating new ones by dredging earth and sand from the ocean floor. He said he was in Washington "to see what more the U.S. and Philippines partnership can undertake" to stop China "taking as much of the South China Sea as possible." Recent satellite images have shown that since about March 2014, China has conducted reclamation work at seven sites in the Spratlys and is constructing a military-sized air strip on one artificial island and possibly a second on another.
Other images have suggested China is working to extend another airstrip to military length in the Paracel Islands further north. Reuters reported last week China had added about 2,000 acres of land in the South China Sea since the start of 2014, according to one U.S. estimate. In April, the U.S. military commander for Asia, Admiral Samuel Locklear, said China could eventually deploy radar and missile systems on the outposts that could be used to enforce an exclusion zone should it move to declare one.
Last month Reuters reported that Japan's military was considering joining the United States in maritime air patrols in the South China Sea in response to China's increasingly assertive pursuit of territorial claims. A U.S. military source said a decision to begin such flights could prompt Tokyo to ask the Philippines for access to air bases, something that would allow aircraft to patrol longer.
(Reporting by Phil Stewart, David Alexander and David Brunnstrom; Editing by Lisa Shumaker)