What's in a name? For Zimbabweans, it's 'Obvious'
 By Ryan Lenora Brown, 12 May 2015, Christian Science Monitor (USA)
When it comes to naming traditions, Zimbabweans are inspired by tradition, superstition — and baby soft skin?
JOHANNESBURG, SOUTH AFRICA — Twenty-seven years ago, as the Chiore family of Harare, Zimbabwe, celebrated the birth of their seventh child, they didn't linger long over what to name him. In fact, the choice was obvious.
Literally.
"Most people can't believe it," says Obvious Chiore, now a waiter in a Johannesburg restaurant. "It's helpful though — I get a lot of regular customers because people can't forget me. I'm one in a million."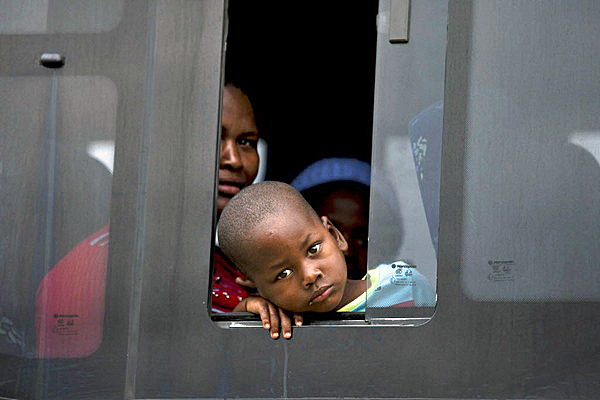 Ask a southern African to explain the meaning of their name and they will often unspool an elaborate tale riddled with family politics, tradition, and sometimes even prophecy. In 1918, for instance, a chief in a remote corner of eastern South Africa decided to give his son the name Rolihlahla, a local word meaning "pulling the branch of a tree," or colloquially, "troublemaker." Over the course of his life, Rolihlahla — better known as Nelson — Mandela would more than live up to that prediction.
But as English has elbowed its way into the region's governments, education systems, and media over the course of the last century, the naming tradition too has taken on a new linguistic twist, and nowhere more obviously than in Zimbabwe.
Check the phonebooks of Harare and Bulawayo and alongside a slate of Annes and Johns and Philips you'll find Lovemores and Addmores, Godknowses and Godsaveses, Noviolets and Pinkroses. In recent years, there have been professional Zimbabwean soccer players named Have-a-look Dube and Danger Fourpence, and one of the country's leading opposition politicians is a Zimbabwean man named Welshman.
"I suppose it's because of colonization, but many parents believe if you give your child a name in English, it will help them get ahead in life," says Pinkrose Mpofu, a call center operator in Johannesburg who is originally from Zimbabwe. And Ms. Mpofu doesn't have to look far to see how widely that naming ethos was embraced — working the phones just down the hall are Zimbabwean colleagues named Thanksalot and Godknows. "We get a lot of laughs when we introduce ourselves," she says.
But if the Temptation — yes, that's another Zimbabwean name — is to chuckle at these unusual monikers, they are also living reminders of the Zimbabwe that once was — a country with Africa's highest literacy rate and one of its most rigorous and democratic post-colonial school systems, which left behind a generation of seasoned English speakers, even among the country's poorest.
The buoyancy of that era — which stretched across the 1980s — is even recorded in popular names of the time, like that of a man this reporter once interviewed named Freeman Chari. Born in 1981, just a year after the country's independence – but decades after many African countries gained their independence in the 1960s — Mr. Chari was literally the first in his family to grow up a free man.
But as political violence accelerated and Zimbabwe's economy splintered under the weight of structural adjustment policies from international lenders in the early 1990s, many began to flee the country. Today, estimates put the number of Zimbabweans living abroad between two and four million, compared to a local population of just 14 million.  
The majority who leave end up in South Africa, where their hopeful names — copied out again and again on asylum petitions and work permit applications, CVs, and job-wanted ads —are often betrayed by the realities of their new lives in a country of deep anti-foreigner suspicion and blisteringly high unemployment.   
When he came to South Africa in 1991 at the age of 21, Professor Ndlovu took up work as a gardener, "because for someone like me there was nothing else," he says. Shopman Moyo — who says he believes his parents chose his name thinking it meant "businessman" — did not become a businessman when he came to Johannesburg in 1994, but a Coca-Cola delivery man.
"However long you are here, even if you have a South African passport like I do, the police look at the name on your ID and they know you are not from here," says Last Sibanda, an auto mechanic who has lived in South Africa since 1996. "They begin to ask you strange questions."
His own name bears the scars of his family's history. The 10th of 11 children, Mr. Sibanda was originally named Khiwa, a Shona word meaning "white person," for his pale skin. But when his youngest brother passed away at the age of three, their grief-stricken mother decided she would never have another baby, and sealed the promise by renaming her youngest living son "Last."
Far from home, other Zimbabweans in South Africa tell more nostalgic family histories in their names. There's Staysoft, a Johannesburg gardener named for a popular brand of fabric softener, who says he got his name because of the soft skin he had as a baby. Pinkrose's colleague Godknows was born to a single mother after his father "pulled a disappearing act," so the name was "a comfort, a reminder to have faith that it would all work out."
Then there's Cabinet Ncube.
"Not like the place where you store your clothes," he corrects quickly. "Like the president's associates." The ninth boy in a row born to his mother, he says by the time he came along, his family joked they had an entire political cabinet at their disposal.
Mr. Ncube, who came to South Africa in 1995, is now a citizen here, but for many of his countrymen and women, life in this country remains a precarious prospect —dependent on work permit renewals and sympathetic employers. When violence against foreigners flares periodically, as it did most recently in April, many say they feel profoundly unsure in their future here.
Early Friday morning, heavily armed police and soldiers burst into downtown Johannesburg's Central Methodist Church, which for several years has provided sanctuary to Zimbabwean refugees with nowhere else to go. By the time the sun cracked over the city, they had arrested more than 500 undocumented migrants, according to the church's bishop, Ndumiso Ncombo, and were preparing to deport them back to Zimbabwe.
In the suddenly vacant expanse of the church, strewn with the wreckage of lives quickly abandoned — beds unmade and plates of food unfinished — Mr. Ncombo was left with only an outdated list of the refugees' names, which he had collected in February.
It included a Swagger and a Bigboy, a Brain and a Confidence, but also a Decent, a Pardon, and three Blessings. There was an Innocence, an Endless, and a Future.