China now world's biggest source of international students as more Chinese head overseas for broader education
 By Mandy Zuo, Friday, 15 May, 2015,, South China Morning Post
Experts say China's talent pool will improve as overseas universities throw open their doors to mainlanders as source of profit and diversity
China is the world's biggest source of international students, with its growing middle class increasingly sending their children for studies abroad even as the authorities express concern about the influence of Western values on Chinese youth. A record 460,000 mainlanders studied overseas last year, up 11 per cent from 2013, according to the education ministry. Dr Wang Huiyao , director of think tank, the Centre for China and Globalisation, said this indicated China was entering a new era in globalisation.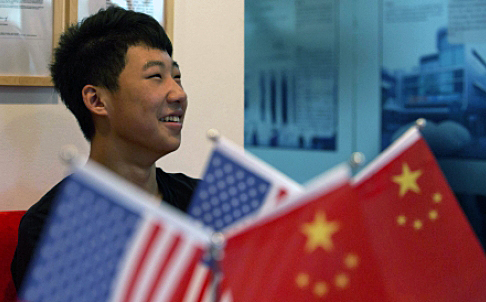 "Consumers are becoming more financially capable, and they now have higher expectations for education," Wang said. "These students aren't just studying in the United States or western Europe, but also in Malaysia, India and Russia, among other countries. This will improve China's talent reserve and its globalisation capacity as it pushes its 'One Belt, One Road' strategy." Even so, the authorities remain concerned that more of the country's young people will be influenced by Western values.
In a controversial speech earlier this year, Education Minister Yuan Guiren ordered education departments to "firmly keep universities away from textbooks that spread wrong Western ideas". Yuan's warning against Chinese students absorbing Western ideology amid an open education market, sparked heated public debate. National Institute of Education Sciences researcher Chu Zhaohui said that while an open education market marked social progress, it was also dangerous if local universities lost students.
"Our own universities should improve their teaching and research so that they can be more attractive," Chu said. "If we keep losing students, we'll lose the base for better education." A growing number of middle-class mainland families are sending their children to study overseas as they weary of the Chinese education system, which is deemed rigid and overly focused on academic achievements at the expense of the overall development of the student.
Chu noted that foreign schools were very welcoming of Chinese students as they helped the institutes become more culturally diverse and were also a huge source of profit. The University of San Francisco said in Beijing last week it would admit mainland high-school graduands as long as they met a certain grade in their national college entrance examinations and passed a face-to-face interview. These students would not have to undergo further tests or provide other qualifications, official media reported.
The American university also set up a dedicated webpage for the scheme and established an office in Beijing to attract more students from the mainland, the Beijing Evening News reported.