Egypt media criticism of Sisi raises questions on allies' support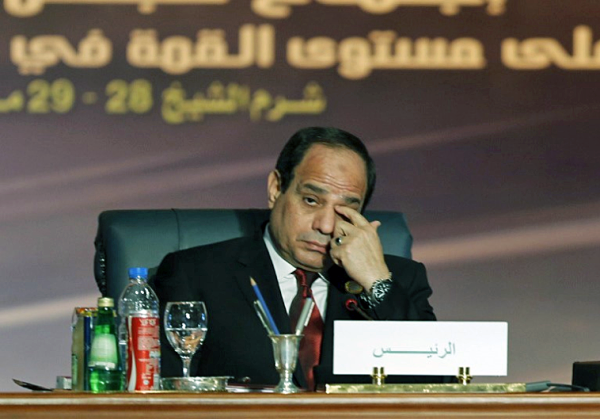 Cairo — unprecedented criticism  of Egyptian President Abdel Fattah al-Sisi suggests he may no longer enjoy unquestioning support from the diverse groups that helped him to stage an army takeover two years ago. But diplomats and analysts say there is no immediate danger to Sisi's presidency, and he may even by the victim of his own success in crushing Islamism and stabilizing the economy. Egyptian newspapers have begun suggesting that Sisi is fallible. This would have been unthinkable when, as then army chief, he removed the Muslim Brotherhood from power in 2013.
The criticism is guarded and often indirect. For instance, Al Watan has identified factors undermining Sisi, including corruption and nepotism. It has also alleged violations committed by the police. "There is probably no institutional reason for this limited push back in the Egyptian press. What it may show is yet more evidence that the power structures in Egypt are not as cohesive as everyone outside of the country seems to think," said H.A. Hellyer, a specialist in Arab affairs at the Brookings Center for Middle East Policy in Washington and the Royal United Services Institute in London.
Sisi toppled Islamist President Mohamed Mursi after mass protests with the full backing of the generals, the "securocrats" of the intelligence services, top businessmen and most local media. He went on to become president at least partly by rallying them behind a crackdown on the Muslim Brotherhood, which he declared a terrorist group that threatened Egypt's existence. But his success in neutralizing the Brotherhood and reducing the number of attacks staged by militants based in the Sinai means his diverse supporters, no longer so worried by the Islamist challenge, are re-directing their attention to their own interests.
"This is less conspiracy, more normal bread-and-butter politics returning," said one Western diplomat. "(It's) a sign of Sisi's success in dialing down the economic and security crisis, but (also) a sign of his weakness so far in managing the other power centers – securocrats, judges, bureaucrats and businessmen." Autocrat Hosni Mubarak managed Egypt's staggering political, economic and social problems for decades through his National Democratic Party until his overthrow in 2011. Sisi, however, has no all-powerful state entity to help him.
"Sisi's presidency is far more cohesive than any in the past four years – but not compared to Mubarak," said Hellyer.
FRICTION SEEN WITH BUSINESSMEN
Businessmen who helped Mubarak to hold on to power for so long illustrate the complex problems Sisi faces. Some want him to accelerate reforms while others seek a return to Mubarak-era crony capitalism for personal gain. Security sources blamed powerful businessmen with links to the media for this week's criticism. "The ongoing differences between Sisi and businessmen is the cause," said one, adding that the company bosses opposed what they see as Sisi's dependence on firms owned by the military and former intelligence officials for projects.
Sisi must tread cautiously. Some private sector companies want him to ease the military's control of what analysts say is a large percentage of the economy, action that could alienate powerful generals. "Sisi's political-economic imperatives conflict with those of the military as well as the domestic security establishment, and the powerful quarters maybe pushing back on his need to engage in reforms," said Kamran Bokhari of the Stratfor global intelligence firm.
Local newspapers which once showered Sisi with praise have started complaining about the man whose grand ambitions span the eradication of militant Islam, and the turning of Egypt into an economic powerhouse. The worst-case scenario for Sisi would be grumblings from the army, which has dominated Egypt for decades, or Gulf Arab states opposed to the Brotherhood which have poured billions of dollars into the country since Mursi's fall.
There is no sign that either has turned on Sisi or intends to. But the media coverage has nevertheless given rise to speculation that could make Sisi's job more difficult. Sisi is undoubtedly under greater scrutiny than ever before. On Tuesday, he appeared cautious and far less confident than normal while delivering a pre-recorded speech to the nation.
"It is very important that you are certain that … I don't hide anything from you. I state all the challenges with complete clarity," said Sisi, adding that he sensed Egyptians had become uncomfortable with the progress of economic projects over the past few months. Amr Adib, a television host with one of the biggest audiences in the Middle East, said Sisi was trying to reassure Egyptians in the speech that he was making sure various projects would succeed. "It is obvious that he is feeling concern. Concern about the talk of the people," said Adib.
Although Sisi has improved the economy after years of turbulence since Mubarak's overthrow, he has recently focused on foreign policy. He ordered airstrikes in Libya after Islamic State beheaded 21 Egyptians there. Egypt is also helping Saudi Arabia to fight Iranian-allied Houthi rebels in Yemen. These actions may boost Sisi's regional standing with powerful allies such as Saudi Arabia and the United Arab Emirates, but he is likely to face growing pressure to deliver on promises made by successive Egyptian leaders.
There are few tangible signs that billions of dollars in Gulf aid have trickled down to Egyptians who still long for better infrastructure, schools and jobs. The next big test for Sisi is likely to come in the blistering summer months, when his government will face pressure to ease power cuts.