"He (Mugabe) needs a lot of help and so we must support him. His heart is in the right place and he needs help," the concerned Msipa emphasised repeatedly. He added that although he had retired from active politics last year, he could not, however, bury his head "in the sand" when it was self-evident that the nation was "burning". "I am trying to get away from elective politics where people are jostling for positions. But because I have invested a lot of my life and time in politics, going back to the 1950s, I want to see this country prosper.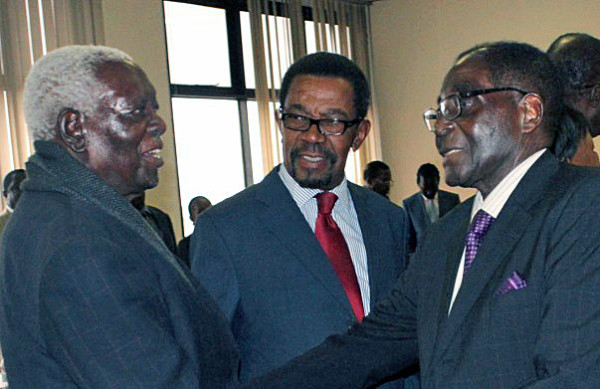 "I want to see the economy prosper. I look at the poverty in the country and I am worried at what is happening. When we went to war, we were promising people milk and honey and Zimbabwe was supposed to be a country of plenty. "Milk meant enough to eat and honey represented happiness. I want to see people happy in the country. But I see there is fear, fear to speak and yet that is why we went to war to attain freedom of speech. Many people suffered for this country so that we can be happy, but where is the happiness?" Msipa asked ruefully.
As he spoke, more than two million Zimbabweans are faced with hunger after the twin combination of drought and poor planning by authorities impacted negatively on the country's crop yields this farming season — meaning that the broke government will have to yet again hunt and pay for maize, the staple diet, from abroad. Yet, at the time of Zimbabwe's independence in April 1980, the late Tanzanian President, Mwalimu Julius Nyerere, exhorted the new Zanu PF government to look after the flowering economy that they had inherited from Ian Smith's government, saying: "You have inherited the jewel of Africa, don't destroy it".
Just over 35 years later, Zimbabwe is beset with perennial and mostly man-made myriad crises — with both poverty and income levels today for the majority blacks often described as "disgracefully" worse than they were during Smith's minority government. In the process, the country swiftly moved from once being the bread basket of the region to become a hopeless basket case a situation widely blamed on Zanu PF's misrule and the gross corruption of its officials.
Msipa said yesterday that the worsening poverty levels in the country owing to the deteriorating socio-economic conditions could only be mitigated if Zanu PF accepted that it had failed the people and all Zimbabweans put their heads together to come up with lasting solutions to the crises. He said he was making this observation and call even as he realised that some people in Zanu PF had contemptuously dismissed calls by opposition leader Morgan Tsvangirai for a national dialogue.
Msipa, who also described Mugabe as a long-standing personal friend, said petty personal differences should be put aside at this difficult moment in the country's history as Zimbabwe was "burning". "Let us concentrate on things that matter. Let us put our heads together as a country so that we can stop this death where industries are closing and people are thrown out of employment," Msipa said. Some economists estimate that up to 95 percent of the country's 14 million people is unemployed and live well below the poverty datum line — most of them eking a difficult living as street vendors.
In the run-up to the disputed 2013 national elections, Zanu PF promised Zimbabweans a better life under its still-born economic blueprint ZimAsset, which promises more than two million jobs before 2018. But Msipa warned that without unity of purpose in the country, most Zimbabweans would continue to suffer and wallow in poverty "because the pangs of hunger do not discriminate" along party-political lines.
"Let us have a unity of purpose. Let us see that Zimbabwe is prosperous regardless of political affiliation. Zanu PF cannot do it alone. "This year we are going to have a drought and it will not affect Zanu PF members only but everyone. I ask often when this suffering is going to end. Let us identify our commonness as we are all Zimbabweans. We swim or sink together and once we identify our commonness we will see what we can do," Msipa said.
Quizzed on whether he thought Mugabe was to blame for the hardships being experienced in the country, Msipa laughed, choosing to say diplomatically that he had "a good personal relationship" with the nonagenarian. Asked about the last time he met Mugabe, he said he last sat down with the president in December last year "at the height of the Zanu PF purges". "He has been very busy but I am looking forward to meeting him soon. Sometimes I write him here and there. We are on good terms and I have no problem with him personally and remember we have a very special relationship dating back to the liberation struggle.
"Even when he left Zapu to form Zanu he said sekuru (Shona for uncle) I hope this move will not affect our relationship. We differ and agree here and there," he said with nostalgia. Msipa was among the first prominent party members to warn of an imminent split of the party last year, going on to criticise Mugabe openly for failing to deal with Zanu PF's deadly infighting and refusing to take advice on the party's escalating factionalism.
In an interview with the Daily News last October, Msipa said pointedly that he feared for the worst for Zanu PF if its ugly intra-party ructions continued to obtain — a prophetic warning that has since come to pass, "If people continue being dissatisfied with what is happening, it is possible to have a split. I think the president has the key to all these issues. I hate factionalism and if it continues I don't know what will become of the party," he said then.
Msipa also bluntly warned Mugabe that his failure to unmask and stop the party's real factionalists would result in the party splitting into several opposing camps, further attacking the party faction aligned to Vice President Emmerson Mnangagwa for behaving as if it "owned" Mugabe's divisive wife, Grace — a development that he said had fuelled factionalism in the party.