Obama seeks to reassure Gulf allies on Iran, security at summit
 WASHINGTON | BY Jeff Mason and Roberta Rampton, Thu May 14, 2015, Reuters
President Barack Obama will seek to convince Gulf allies including Saudi Arabia on Thursday that the United States is committed to their security despite deep concern among Arab leaders about U.S. efforts to broker a nuclear deal with Iran. During a rare, high-profile summit at the Camp David presidential retreat in Maryland, Obama will meet with representatives from Saudi Arabia, Kuwait, Qatar, Bahrain, the United Arab Emirates and Oman, all members of the Gulf Cooperation Council, to discuss security cooperation.
Tension over U.S. policy toward Tehran, Syria and the Arab Spring uprisings will loom over the meetings, which have already been overshadowed by some countries' decisions to send lower-level leaders. Saudi King Salman pulled out, sending Crown Prince Mohammed bin Nayef and Deputy Crown Prince Mohammed bin Salman instead. The White House has said such decisions were not snubs and has portrayed the summit as a set of working meetings rather than symbolic photo sessions.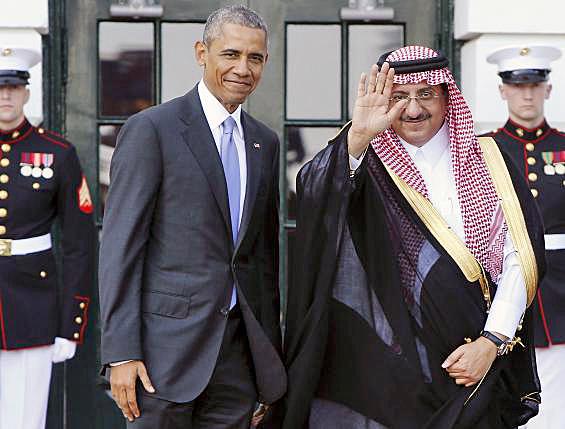 Arab leaders are concerned that lifting Western sanctions as part of a nuclear deal with Iran would empower Tehran to act in destabilizing ways in the region. The United States and five other world powers are in talks with Tehran to curb its atomic program. The Obama administration would like GCC support for the deal to help convince a skeptical U.S. Congress it has broad backing in the region.
Although he will not offer a security treaty as some Gulf leaders desired, Obama will seek to allay their fears about the U.S. commitment to their defense needs. "That will be the essence of the conversations: What can we do to modernize and deepen that security cooperation?" White House spokesman Josh Earnest said on Wednesday. "And much of what the president has in mind is helping the GCC countries use the hardware that they have to better coordinate their efforts and better provide for the security of their citizens."
White House officials said on Monday the summit would produce announcements on integrating ballistic missile defense systems and increasing joint military exercises.