May 13, 2015, People's Daily (China)
Chinese and Russian naval forces on Monday launched a joint naval exercise in thesouthern Russian port city of Novorossiysk. Code-named "Joint Sea 2015-I", it is thefourth since joint China-Russia sea drills began in 2012. The drills, scheduled from May 11 to May 21 in the Mediterranean and involving ninesurface ships from both navies, are to be staged in four phases, focusing on maritimedefense, replenishment and escorting.
Nine ships from two sides are present, including China's Linyi and Weifang missilefrigates and the supply ship Weishanhu, which has just concluded anti-piracy patrols offthe coast of Somalia. Experts believe it is the most distant exercise in which the Chinese navy has taken partoutside home waters, and is the latest sign of close cooperation between China and Russia. The 11 day exercise is divided into four phases, said deputy commander of the Chinesenavy admiral Du Jingchen, according to the website of China's Ministry of National Defense.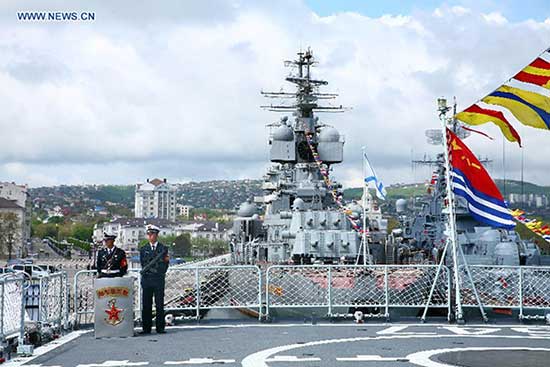 The first two days are the preparation period, followed by the assembly of the two naviesin the Mediterranean Sea from May 12 to May 17. Exercises to safeguard maritime safetywill be conducted from May 18 to May 21. "The joint drills are not aimed at any third party and have nothing to do with the politicalsituation in that region," said Geng Yansheng, spokesman for the Chinese DefenseMinistry. The drills will deepen friendly and pragmatic cooperation between the twocountries, and boost operational response capabilities in the event of security threats atsea.
The exercise involves anti-submarine, air defense, and anti-ship missile simulationexercises to prepare the navies against attacks from the air and sea, according to ZhangJunshe, a research fellow at the Chinese Naval Research Institute. Deputy Commander of the Russian Navy Alexander Fedotenkov said joint naval exercisesare an effective way to fight against maritime threats. The Chinese and Russian navieshave a sound relationship and they have jointly completed difficult tasks through closecooperation on many occasions. He believes both sides will be able to successfullycomplete the exercises and show good professional skills.
Next year's exercise will be held in China's coastal areas, said Zhang Junshe. China andRussia will organize the drill in turn. Navy military expert Li Jie believes that as the Mediterranean is along the One Road andOne Way, China needs to improve offshore delivery, supply capacity and emergency crisismanagement capabilities to ensure waterway safety and protect its own national interestsand those of overseas nationals.