Kerry, Chinese leaders square off over South China Sea
Kirk Spitzer, Special for USA TODAY , May 16, 2015
TOKYO – If Secretary of State John Kerry traveled toBeijing to pick a fight over the South China Sea, he appears to have found one. "The determination of the Chinese side to safeguard our own sovereignty and territorial integrity is as firm as a rock, and it is unshakable," China Foreign Minister Wang Yi said after a meeting with Kerry on Saturday. Kerry is in China for two days of talks on a range of trade and security issues with senior leaders, including President Xi Jinping. But China's massive island-building campaign and expansive territorial claims in the South China Sea, home to some of the busiest air and sea routes in the world, was expected to dominate the agenda.
"We are concerned about the pace and scope of China's land reclamation in the South China Sea," Kerry said at a joint press conference with Wang. "I urged China through Foreign Minister Wang to take actions that will join everybody in helping to reduce tensions and increase the prospect of a diplomatic solution." The impasse is no surprise, said Ben Schreer, a defense specialist at the Australian Strategic Policy Institute, in Canberra.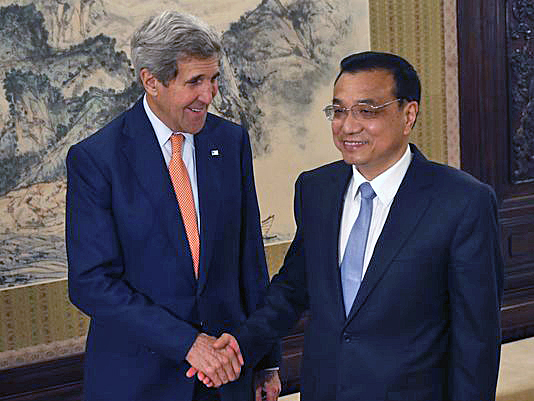 "Too much is at stake for both sides in order for one of them to back down. For the U.S., it's the reputational risk to its leadership in the region. For China it's the domestic reputation that is at stake. Beijing also probably assumes that time is on its side and that the U.S. won't be able to do much to stop their activities anyway," Schreer said. China claims virtually all of the 1.35 million square mile South China Sea. Parts of that region are also claimed by five other countries, including the Philippines, which is a treaty ally of the United States.
Recent satellite images show that China is building artificial islands in seven locations, some with what appear to be runways and port facilities that could accommodate large ships and aircraft. U.S. officials have expressed concern that China could use the islands to solidify its territorial claims and to build military bases from which it could restrict air and sea traffic in the region. Tensions escalated this week with reports that U.S. Defense Secretary Ashton Carterwas considering a plan to send U.S. ships and planes within 12 miles of China's reclamation sites to demonstrate U.S. commitment to freedom of navigation in the region.
Also last week, a new, high-tech Navy warship was closely shadowed by Chinese navy ships during what a senior Navy official said was a "routine," weeklong patrol near theSpratly Islands, where the reclamation activity is taking place. The encounters were described as "professional" and no untoward activity was reported. Earlier Saturday, the official Xhinhua news agency said that Western news coverage indicated that Kerry was coming to China to "pick a fight" with Beijing over the South China Sea and warned that it "smacks of a plot to force Kerry to take on an issue that should never become a concern in China-U.S. ties."
Nonetheless, both Kerry and Yi stressed the importance of dialogue in resolving the issue, and Kerry urged China to speed up talks with ASEAN on binding guidelines for how maritime activity in disputed areas should be handled "I think we agree that the region needs smart diplomacy in order to conclude the ASEAN-China code of conduct and not outposts and military strips," Kerry said.
Despite the clear disagreements over the South China Sea, Kerry and Wang said they were on track to make progress in other areas, notably on climate change, the fight against violent extremism and preparations for the next round of the U.S.-China Strategic and Economic Dialogue in June and Chinese President Xi Jinping's visit to Washington in September. They expressed pleasure with their cooperation in the ongoing Iran nuclear talks, their solidarity in trying to denuclearize North Korea and combat diseases such as the deadly Ebola virus.