Burundi president appears in capital, warns of Islamist threat
BUJUMBURA | BY GORAN TOMASEVIC AND NJUWA MAINA, Sun 17 May 17 2015, REUTERS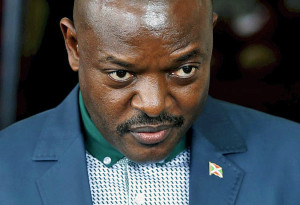 Burundi's President Pierre Nkurunziza on Sunday made his first official appearance since an attempted coup against him last week, AFP reporters said. The president smiled and appeared relaxed as he greeted journalists at the presidential palace in Bujumbura.
He made only a brief statement to journalists with no mention of the country's political crisis. Nkurunziza spoke only about reported threats from Somalia's Al-Qaeda-linked Shabaab militants, who have warned of attacks against Burundi and other states that contribute troops to the African Union force in Somalia. "We have taken measures against Al-Shabaab. We take this threat seriously," said the president, who was dressed in a blue blazer and polo shirt.
Nkurunziza has been facing weeks of violent and deadly street protests over his controversial bid to stand for a third consecutive term in office. On Wednesday, top generals announced they were overthrowing him while he was on a visit to neighbouring Tanzania. But on Friday the coup leaders, having failed to capture the state broadcaster after fierce fighting with loyalist troops, admitted defeat and were detained or have gone on the run, allowing Nkurunziza's motorcade to roll back into the city.