China, India 'still rivals' despite the warm words
By Lawrence Chung in Taipei, Sunday, 17 May 2015, South China Morning Post
China's state-run media have characterised Indian Prime Minister Narendra Modi's visit as marking a new beginning for relations between the two countries, but analysts cautioned that the nations would remain wary of each other as they compete for influence in the region. Modi wrapped up his three-day visit to China yesterday after the two countries signed deals worth US$22 billion covering areas such as renewable energy, ports and finance. The agreements came after a series of pacts were also signed on Friday to increase cooperation between the two Asian giants.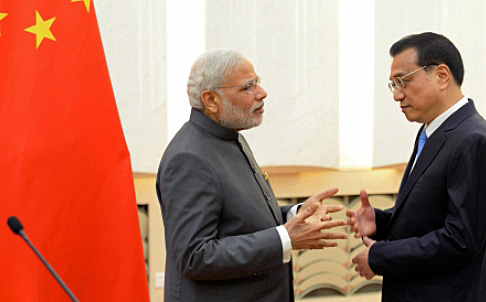 Modi also agreed during his talks with China's leaders that the two nations should take a proactive approach to solving their festering border dispute in the Himalayas. The two countries went to war over the issue in 1962. However, Modi appeared aware of the mistrust between the two sides when he told reporters in Beijing on Friday that during his talks with Premier Li Keqiang he had asked China to "reconsider its approach" on some of issues that were hampering ties.
Modi did not clearly identify what sort of approach he meant, but many Chinese analysts have speculated that India was wary of China's attempts to increase its influence around the Indian Ocean and on to Europe through its "New Silk Road" trade initiatives. India was also suspicious of China because of its strong and long-standing ties with its arch rival Pakistan, analysts said. "New Delhi considers it a strategy to 'encircle' India or undermine India's strategic superiority in the subcontinent," said Chen Mumin, the director of the Centre for Strategic Studies in South Asia and the Middle East at National Chung Hsing University in Taiwan.
"But China will never give up its interests in strengthening relations with other South Asian countries because China needs access to the Indian Ocean, which is important for maintaining energy security." Chen said China was equally suspicious of India's ties with the United States and its attempts to improve relations with other Southeast Asian nations amid unease over Beijing's increasing economic and geopolitical influence in the Indian Ocean region.
Zhao Gancheng, the director of South Asia Studies at the Shanghai Institute for International Studies, said the border dispute between the two nations could also prove more difficult to resolve than the two leaders had tried to portray in public. Tensions rose between China and India last year over the disputed border, with Beijing laying claim to more than 90,000 sq km ruled by New Delhi in the eastern sector of the Himalayas.
"The two sides are merely keeping the problem from further deteriorating, but politics is the only approach to resolve the problem," said Zhao. Chen, at National Chung Hsing University in Taiwan, said Modi's trip had boosted leaders' popularity in China and India with its positive message about future ties between the two countries, but there could be no hiding the two nations' rivalry in the region. "The problems and mistrust between both sides are structural," Chen said.