Turkey's Erdogan says Morsi death sentence 'a return to Ancient Egypt
 Saturday 16 May 2015, Ahram (Egypt)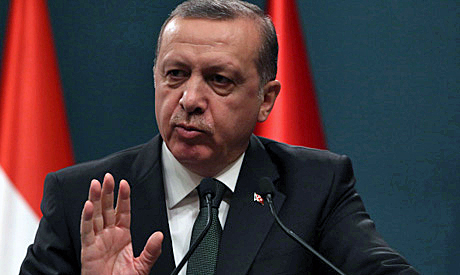 Turkish President Recep Tayyip Erdogan on Saturday attacked the death sentence handed out by an Egyptian court to former president Mohamed Morsi, saying it was like a return to "ancient Egypt", AFP reported. "The popularly-elected president of Egypt… has unfortunately been sentenced to death. Egypt is turning back into ancient Egypt," Erdogan said at a rally in Istanbul, accusing the West of "turning a blind eye" to the 2013 ouster of Morsi.
On Saturday the Cairo Criminal Court issued a preliminary death sentence to Morsi and 105 other defendants in the trial, known in the Egyptian press as the "Natroun jailbreak case".  In the case, the prosecution had charged Morsi and co-defendants with damaging and setting fire to prison buildings, murder, attempted murder, looting prison weapons depots and releasing prisoners. The court has sent its decision in the Natroun case to the country's grand mufti for a consultative review as required by Egyptian law, setting 2 June as a date for a final verdict.
Relations between Egypt and Turkey have been strained since the ouster of Morsi, an ally of Erdogan, in 2013.  Cairo has objected to Ankara's criticism of the ouster of Morsi as well as its hosting of several exiled leaders of the now-banned Brotherhood. Erdogan has repeatedly called for the release of the former president.
The Egyptian government has required since 2014 that Egyptians between the ages of 18 and 40 who want to travel to Turkey must obtain security clearance.