14 May 2015, Al-Ahram Weekly
Ahmed Eleiba assesses the significance of President Abdel-Fattah Al-Sisi's latest visit to Moscow
In Moscow's Red Square, on the occasion of Russia's celebration of 70th anniversary of Victory Day, President Abdel-Fattah Al-Sisi commanded attention as one of only two Arab leaders to be invited. The other was PA President Mahmoud Abbas. Egypt's president watched a military parade and the display of the latest military hardware. Al-Sisi then proceeded to the wreath-laying ceremony at the Tomb of the Unknown Soldier, after which he participated in a reception hosted for world leaders.
While other heads of state also took part in these ceremonies, Al-Sisi was the only one to have a bilateral meeting with Russian President Vladimir Putin. This appointment, say observers, underscores the special nature of Egyptian-Russian relations. Mohamed Al-Badri, Egypt's ambassador to Moscow, described the visit as a reflection of Moscow's esteem for the role Egypt is playing in the Middle East. He points out that Russian-Egyptian trade last year stood at $5.5 billion, of which $580 million were Egyptian exports to Russia, mostly of agricultural produce. Russia is now Egypt's largest supplier of wheat and largest market for tourists.
Russia, Al-Badri stresses, was the first country to recognise the 30 June Revolution and has supported all the measures Al-Sisi has taken since the removal of Mohamed Morsi. Putin has frequently stressed that the Egyptian army's support for the will of the people altered the fate of the entire region. Al-Badri added that contrary to rumours no agreements would be signed with Russia during the visit. Instead the Egyptian government is proceeding in accordance with the memoranda of understanding signed between the two countries in Cairo in February.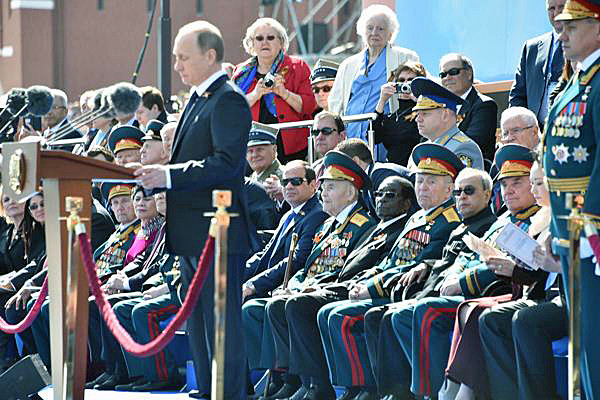 Egypt, he said, needs to work harder to attract Russian investments. Cairo's representative in Moscow denied that Egypt's participation in the Storm of Resolve operation in Yemen had led to tensions with Russia. There is an ongoing dialogue in which views on the issue are exchanged, he said, stressing that Russia understands and appreciates the Egyptian viewpoint on the issue and that Moscow contributed to efforts to evacuate Egyptian citizens from Yemen.
He acknowledged Russian investments in Egypt were the weakest aspect of the bilateral relationship and greater efforts are needed to attract more. The same might be said of tourist numbers, which have declined drastically following the fall in the value of the rouble. Last year more than 3.1 million Russian tourists visited Egypt. Al-Badri points out that it is not just the Egyptian market that has suffered. The total number of Russians travelling abroad has fallen by 33 per cent, from 22 million to 15 million. In an attempt to buck this trend the Ministry of Tourism is planning a major marketing campaign targeting Russian cities that have traditionally provided large numbers of tourists to Egypt.
Nourihan Al-Sheikh, a professor of political science and an expert on Egyptian-Russian relations, agrees that Al-Sisi's visit to Russia last week is significant. She told Al- Ahram Weekly that received history was being rewritten during this year's commemoration of the defeat of Nazi forces. Not only has the US always tried to minimise the crucial role Russia played in World War II, this year Washington attempted to pressure some of its allies into not attending the ceremonies commemorating and honouring the millions of Soviet war heroes.
"When I read that President Al-Sisi would participate in the event I felt it was a bold decision," says Al-Sheikh. "He is moving forward in the direction of rejecting US policies and refusing to be constrained by them. "During the commemoration he will have met with a large number of world leaders who also reject the American line. I think his presence will help dispel any Russian anxiety that Cairo's rapprochement with Moscow is a temporary strategy, adopted following the crisis in relations with the US in the immediate post-30 June Revolution phase."
No one attending the Russian Victory celebrations could be unaware of the formidable challenges Moscow faces or the backdrop of international tensions that some observers believe are reviving the Cold War. But nor could they fail to appreciate that the US-led campaign of sanctions and other pressures has failed to curb Moscow's resolve to recover its former influence.
So what might this mean to us in Egypt?
Egypt too is a country well on the way to recovering its former influence, both regionally and internationally: its participation in the Storm of Resolve operation and proposals for a joint Arab force are testimony enough of this. "Russia is a model that could be emulated. Russia is strong in spite of the challenges and sanctions it faces. It is governed by a strong president and has a powerful army and military system that carries considerable weight in global military balances," says Al-Sheikh.
"Should Egypt choose to emulate the Russian model it is because it is a model worth emulating. It would also underline Cairo's rejection of the model of American hegemony." But what does Russia represent to Egypt and what can Egypt offer in return?  "Russia has supported Egypt politically for a long time. Since relations were resumed in 1984 they have been consistently good. They grew even stronger following the 30 June Revolution, to the extent that what we are now speaking about is a strategic relationship that operates on an international level. Nor can we ignore the fact Russia is now the supplier of 40 per cent of Egypt's wheat," she says.
"What does Russia mean to Egypt? It means a Russian zone in the new Suez Canal development. It means the Dabaa nuclear plant, one of Egypt's most important mega-projects. It means developing iron and steel factories in Helwan. It means millions of tourists, even in difficult times. It means military cooperation, working together to fight terrorism." As to what Egypt means to Russia, Al-Sheikh is just as clear.
"Egypt is a pivotal state in the Middle East, Russia an eastern nation that shares a similar outlook, features and the same political language. Egypt, with its weight, represents strategic depth for Russia." There has clearly been a qualitative leap in relations between Cairo and Moscow says Mikhail Riyabov, a Russian military advisory who worked in Egypt in the 1960s, the zenith of the Egyptian-Russian relationship.
"Russian-Egyptian relations are developing and will be more than many people expect. Strategic ties will exceed those of the 1960s because there is a concrete basis for these relations built by both sides. No party will be able to prevent the progress and development of this relationship," he says.  "Mutual interests will bind us closer together against the backdrop of a global crisis that is moving from bad to worse. The geopolitical situation in the Middle East has grown more complicated as a result of American policies. This can be felt by all.     "Egyptian-Russian relations will serve to balance Middle East politics but they also benefit the two countries politically and economically," continues Riyabov.
"When we look back we see the construction of the High Dam, the iron and steel complex at Helwan and other major projects. Has the US done anything of this sort in Egypt? "When you look at the US you see hegemony and the arms trade. We have an extensive agenda with Egypt. Whether on the level of political or military relations, fighting terrorism or other regional issues, our outlooks are close and based on an exchange of views and strategic dialogue."