Zimbabwe: Grace flexes her muscles
By LLOYD MBIBA  •  16 MAY 2015 • Daily News (Zimbabwe)
HARARE – After hibernating for the past five months since she underwent an appendix operation in Singapore late last year, First Lady Grace Mugabe is once again flexing her considerable political muscles after she summoned provincial ministers to a meeting at her Mazowe business hub.
However, the meeting — that was supposed to take place yesterday and which was meant to whip the provincial ministers into line as Zanu PF's factional and succession wars continue to disembowel the ruling party — was aborted as Grace is reportedly away and will only be back in the country next week although she had scheduled the meeting for yesterday.
Well placed sources who spoke to the Daily News yesterday said Grace's latest move meant that a second round of ruthless Zanu PF and State purges were on the way after she fronted a similar divisive manoeuvre last year that culminated in the summary expulsion from the party of former Vice President Joice Mujuru and all her perceived allies.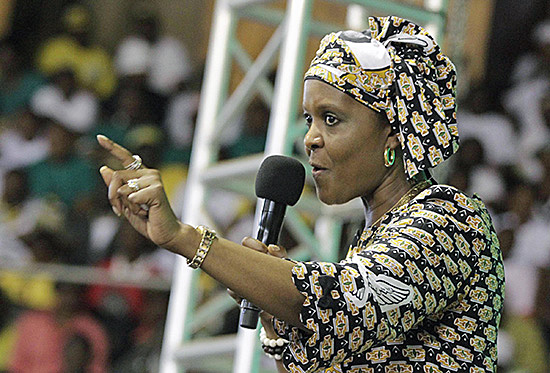 One of the sources said Grace was concerned with the intensification of factional ructions in the party and now wanted "to crack the whip again", beginning with the provincial ministers. "There is gnashing of teeth in the party since it was known that Amai (Grace) wanted to meet the provincial ministers, many of whom such as Jason Machaya (of Midlands) know that the dreaded axe is coming. "It is also understood that this meeting will lay the foundation for a second round of her controversial 'Meet-the-People' rallies around the country, similar to what happened at the end of last year prior to the party's disputed congress," the central committee member said.
Another source confirmed the plans saying it was expected that Grace would launch her forthcoming "tour" with a visit to Masvingo province next week where she would address a rally. "The money and the logistics are already in place and it's all systems go should nothing else get in the way of the plans," the source said. In the run up to Zanu PF's disputed congress last year, Grace embarked on countrywide rallies dubbed during which she unleashed ferocious attacks on Mujuru, accusing the widow of the late liberation war icon, General Solomon Mujuru, of a host of untested offences, including allegedly plotting to oust and kill Mugabe.
Shortly afterwards, Mujuru was fired from both her party and government positions along with several other political heavyweights that included Presidential Affairs minister Didymus Mutasa. The deadly infighting recently saw the party split into two distinct and bitterly opposed formations, with its liberation stalwarts now operating as the "original" Zanu PF using the slogan People First.
In addition, there has been a further rapture of the formation led by Mugabe, with its Young Turks that include Water minister Saviour Kasukuwere now also standing accused of plotting to oust the nonangenarian from power through foul means. Kasukuwere has particularly courted controversy over the ruling party's divisive restructuring, as well as the selection of party candidates for the forthcoming by-elections slated for June 10. In the Harare East constituency, for example, Kasukuwere stands accused of defiantly ignoring a directive by senior party leaders, working through the party's secretary for administration Ignatius Chombo, that the party be represented by Mavis Gumbo and not Terence Mukupe who won internal party primaries for the seat.
As a result, the party will now embarrassingly field two candidates after Mukupe, supported by Kasukuwere, won the right to also stand in the poll as a Zanu PF candidate. But war veterans linked to Vice President Emmerson Mnangagwa savaged Kasukuwere on Tuesday, accusing him of working with Western countries to oust Mugabe from power. And politicking in similar fashion, controversial Zanu PF Harare youth chairperson Godwin Gomwe, who is closely linked to Grace, also railed against Kasukuwere regarding the Mukupe saga.
However, Kasukuwere has since hit back at war veterans, derisively accusing them of being drunkards. Mnangagwa's supporters also allege that the rebellious party Young Turks, some of whom operate as a so-called Gang of Four and others as Generation 40 members, also want to dethrone the VP from power, in addition to complaining that they were not rewarded adequately for masterminding the demise of Mujuru and her allies.
It is further claimed that hardliners in the party are using Kasukuwere's position and influence in the party to strategically position themselves and the allies in their alleged bid to outwit Mnangagwa and his allies. It is widely accepted in the party that this is what has prompted the Mnangagwa camp to move, through the likes of Chombo, to reverse many of Kasukuwere's decisions — including overturning the results of party primary election which favour the Young Turks.
Dumisani Nkomo, a Bulawayo based analyst, said Grace was now effectively in charge of the government and Zanu PF as she was allegedly taking advantage of her husband's advanced age and failing health to protect her interests. "It is obvious that she is now running the show. But she is doing her things in a rather clumsy way that leaves the party in more chaos and disharmony. We thought by removing Mujuru there would be harmony in Zanu PF but look what is happening now.
"Mugabe is definitely getting older and his wife has realised this and that is why she is stepping into his shoes to ensure that her interests and future are protected. The net effect is that Grace is now the leader of Zanu PF and government. "However, this doesn't augur well for democracy because the First Lady was never elected into power although she is the de facto leader. What we then have is an unelected person leading the country and this is wrong. My advice to the First Lady is that her job is to give out gifts and cut ribbons," Nkomo said.
Another political analyst, Maxwell Saungweme, said Grace had become a most powerful figure in Zimbabwean politics. "It's increasingly becoming clear that Grace is the actual power behind the throne. She is leading both in the State House bedroom and in the corridors of Zanu PF. She has become very powerful courtesy of her old and tired husband," Saungweme said. International Crisis Group Southern Africa project director, Piers Pigou, said the ructions in Zanu PF were a clear testimony that Zanu PF had not changed its modus operandi.
"This raises a broader question of what, if anything, has changed with the ruling party's modus operandi and what import this has for Zimbabwe's sustainable recovery. "It reflects a profound paucity in leadership, and one is not overwhelmed by optimism. So, in the current context, and the ongoing failure by Zanu PF to provide clarity on a range of issues, it should be of no surprise that the speculation and rumour mill is going into overdrive," he added.