By Stephen Kafeero, Wednesday, 20 May 2015,  Daily Monitor (Uganda)
KAMPALA. Police yesterday besieged the homes of key Opposition leaders, blocking them from submitting their proposals on the Constitutional Amendment Bill, 2015, to the Legal and Parliamentary Affairs Committee of Parliament. The committee is currently scrutinising the Bill and is receiving views from various stakeholders. The Opposition has denounced the proposed constitutional changes, saying they are aimed at hoodwinking Ugandans and keeping Mr Museveni in power.
According to the neighbours, police were by 5am camped outside the homes of Kampala Lord Mayor Erias Lukwago and former Forum for Democratic Change president Kizza Besigye. At Dr Besigye's home in Kasangati, Wakiso District, police barricaded roads leading to his house and blocked any vehicle from entering or leaving the premises. "They have besieged my home yet again but I have not been informed of the reason for the siege. Today, we were supposed to present, as FDC, our views to the Parliamentary Legal committee on the Constitutional Amendment Bill," Dr Besigye said.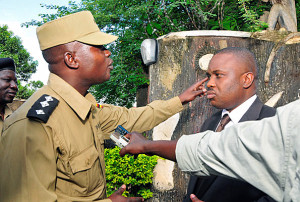 He added: "I think this is intended to stop me from proceeding to Parliament like they did last week when they stopped our intended meeting at Nsambya."  Dr Besigye attempted to leave but was compelled to go back by police officers led by Mr Fred Ahimbisibwe, the Division field force operations commander, Kasangati. "We have reliable information that you are going to cause mayhem in the city. We advise that you go back to your house," Mr Ahimbisibwe said. Mr Ahimbisibwe said police had received intelligence information that Dr Besigye, Mr Lukwago and Kawempe Mayor Mubarak Munyagwa, among others, planned to incite people in markets and cause "mayhem" in the city.
Like in the past instances, Dr Besigye said police had no credible reason to barricade his home. "I have been taken to court countless times. I have never been able to defend myself because all charges brought against me have been dismissed." Mr Lukwago was also not allowed to set foot outside his home in Rubaga Division despite several pleas to police led by Old Kampala DPC Emmanuel Ocamuringa to let him out.
"I have requested them to lead the way and escort me to Parliament but they have refused," he said. Mr Lukwago said he had two reasons why he was going to the city, including bailing people arrested last week when police blocked their meeting at Nsambya Sharing Hall and to be part of a team taking poll reform proposals to the Legal committee of Parliament.
Elsewhere
In Parliament, the Opposition meeting with the Legal committee flopped and FDC leader Mugisha Muntu requested for more time since they could not proceed without Dr Besigye.  Government has suggested a raft of constitutional changes but the Opposition and civil society activists observe that all their suggested reforms were ignored. The Bill, among other things, empowers the President to appoint and dismiss EC commissioners but the Opposition want an independent body to ensure free and fair polls.
Meanwhile, police arrested the FDC Women League leader Ingrid Turinawe in her attempt to join other Opposition members, including FDC president Mugisha Muntu, who had made it to Parliament. Ms Turinawe was arrested together with Hamidah Nalongo Nassimbwa, an activist, who was stripped half-naked by police officers in attempts to restrain her.