Burundi president appeals for ethnic harmony, soldier killed
BUJUMBURA | BY Goran Tomasevic and Edmund Blair, Wed 20 May 2015, Reuters
Burundian President Pierre Nkurunziza appealed for ethnic harmony on Wednesday, addressing fears that weeks of political unrest could trigger another bout of bloodletting between Hutus and Tutsis in the heart of Africa's Great Lakes. In an address on national television, Nkurunziza, who is under pressure from street protesters to end his bid for a third term, said the risk of the former Belgian colony descending once again into genocide or civil war was too great.
"No Burundian wants to revive the tensions of ethnic division or any other nature," Nkurunziza, who has mixed Hutu-Tutsi parentage, said. "The blood that was spilt in the past has taught us a lesson." More than 20 people have been killed in the unrest, which includes a failed military coup a week ago, and there are fears of more bloodshed as determined anti-Nkurunziza demonstrators confront an intensifying crackdown by security forces.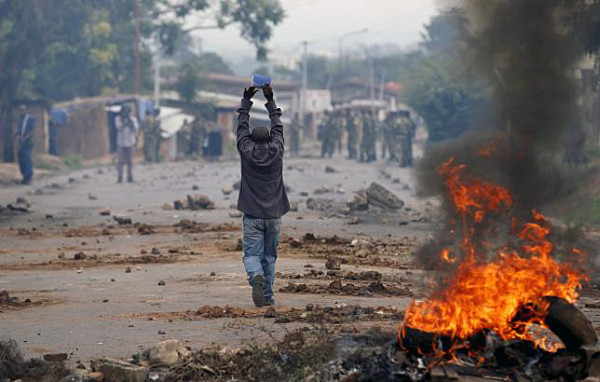 There have been few signs so far of the struggle being driven by anything other than the desire of urban Burundians to stop Nkurunziza seeking another term, which they say breaks the constitution and a peace deal that ended civil war in 2005. An estimated 300,000 people died in the conflict in Burundi, which has the same ethnic mix as neighboring Rwanda, where 800,000 – most of them Tutsis and moderate Hutus – were killed in a 1994 genocide.
However, with people being killed almost daily on the streets of Bujumbura and more than 110,000 seeking refuge in Tanzania, Rwanda and Democratic Republic of Congo, rights groups fear it is only a matter of time before ethnicity becomes a factor. "The situation is so unstable and volatile that every day appears to be a flashpoint," said Carina Tertsakian, Human Rights Watch's senior Burundi researcher. "The demonstrators are not backing down and the government is intensifying its crackdown."
On Wednesday, a soldier was shot dead on the streets of the capital, with witnesses saying he had been hit in the chest by a round fired by police, an incident that could inflame tensions between different wings of the security forces. Army spokesman Gasper Baratuza could not confirm details of the soldier's death. In another incident in the volatile Musaga neighborhood of Bujumbura, a Reuters photographer monitoring protests heard a loud explosion in an area from which a slightly injured policeman walked away soon afterwards.
"The protesters have thrown a grenade," an officer at the scene shouted.
"ARMY NOT DIVIDED"
Nkurunziza, a 51-year-old former sports lecturer, has so far yielded no ground to the protesters, whom his government has tried to associate with the failed military takeover, a tactic that has made no dent in the numbers on the streets. However, earlier on Wednesday he postponed parliamentary and local elections scheduled for May 26 to June 5, a move his spokesman attributed to requests from opposition politicians and the international community.
Nkurunziza argues that his presidential bid is legitimate since he was appointed to his first term in office by parliament, rather than by a direct vote. Regional heavyweight South Africa, which helped broker an end to the civil war a decade ago, called this week for the presidential vote to be postponed indefinitely to allow stability to return.
In a sign of a deepening humanitarian crisis, a Tanzanian health official said 33 people had died of cholera in an informal camp that is home to more than 50,000 refugees on the shores of Lake Tanganyika. The 10-day delay to the local vote and Nkurunziza's refusal to delay the presidential election at the heart of the crisis is unlikely to appease the protesters, who continue to march, chant and burn barricades in defiance of soldiers and police.
Last week's abortive coup appeared to expose rifts in the military, a pillar of post-war unity and reconciliation, but presidential spokesman Willy Nyamitwe denied any splits in its ranks. "The army is not divided," he told Reuters.