Clearly identify risks Africa faces
BY ROWENA HAY, MAY 20 2015, Business Daily (South Africa)
IT IS time for Africans to speak coherently about the environmental and social threats they face, building on and adapting established global risk models. Individual efforts in disaster risk reduction do make a difference and can eventually secure political will and public support. It is about how we manage the risks to the environment, taking into account social and economic demands — if we don't take them into account, they will trigger worse environmental risks.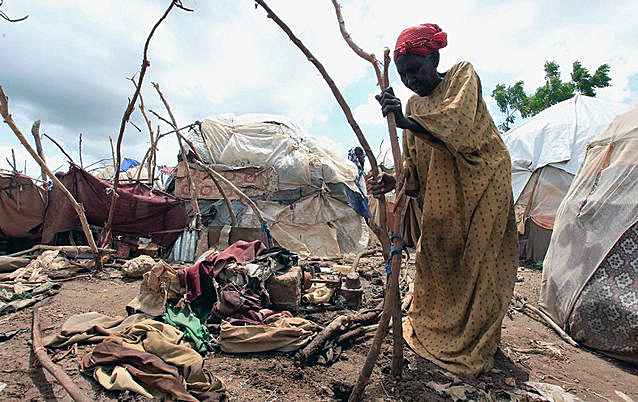 There is a view of the world that risk can be quantified once-off, but this does not factor in compound disasters and cascading risks. We have been living in a world of uncertainty and constant change since the financial crisis of 2008. So we need to talk about adaptation. Coping capacity is based on the recognition that some communities cope better than others, and recognise the need to adapt to change. You look not only at vulnerability, but also people's strengths.
The disaster risk reduction agenda has evolved since the United Nations (UN) International Decade for Natural Disaster Reduction (1990-99), which promoted disaster reduction with technical and scientific buy-in. The Yokohama Strategy and Plan of Action in 1994 was the first blueprint for disaster reduction policy guidance. This had a social and community orientation. In 2000 there was the International Strategy for Disaster Reduction — increased public commitment to sustainable development, enlarged networking and partnerships.
In 2002, the Johannesburg Plan of Implementation with the World Summit on Sustainable Development included a new section on an integrated, multihazard, inclusive approach to address vulnerability, risk assessment and disaster management. In 2005 the World Conference on Disaster Reduction's Hyogo Framework for Action was a 10-year plan endorsed by the UN General Assembly to build the resilience of nations and communities to disasters.
The 2014 World Economic Forum global risk report was released and the third UN World Conference on disaster risk reduction led to the Sendai Framework for Disaster Risk Reduction 2015-30. The Hyogo framework was developed by a small group of scientists, sociologists and disaster management practitioners and was a practical, useful document. It was far-sighted in its approach to civil society and using ordinary people as volunteers.
Preparation for the post-2015 process started in 2011, with conversations about setting new goals. However, African representatives argued that many priority areas were only starting to be addressed in certain parts of the continent and the agenda should not be changed. This was a triumph for the African voice, showing that the regional nature of some environmental issues should be further addressed. The growing nexus of environment, government and instability is often glossed over and that is a factor in Africa we simply can't afford to ignore.
THERE is a very important role for the African voice, but it needs to be well thought through, coherent and formally put across within the UN's structured conversation. The $50,000 UN Sasakawa Award is awarded to individuals or institutions that helped reduce disaster risk in their communities. The awards initially tended to acknowledge the scientific contributions of path-finding individuals, then recognised projects with significant community involvement and effect, and finally collaborative approaches.
The 2013 winner was the National Alliance for Risk Reduction and Response Initiative from Bangladesh, made up of numerous nongovernment organisations (NGOs). The alliance developed mass-media campaign materials and, by engaging at a national, regional and local level and speaking with one voice to government, achieved something remarkable. NGOs and nonprofit organisations often have overlapping and cross-cutting purposes. They get funding from different sources and do not always communicate with one another. This is a waste of energy; what is needed is a common purpose and alliance between people at a community level.
We cannot afford to compete for skills and resources, or apply for resources every three years. What is needed is sustained funding and a responsive programme over 10-15 years. For that you need committed people prepared to work in communities and come to know them, care for them and be prepared to learn as much as they are prepared to share, with trust and respect. On global risk, major World Economic Forum perspectives are based on the private-sector viewpoint — input from firms such as Swiss Re and the Zurich Insurance Group.
Recorded loss events are concentrated where there is large infrastructure, such as in Europe, Southeast Asia, the US east coast and the west coast of South America. Losses in Africa have been centred on major coastal cities, with a focus on hydrogeological events and large droughts. The losses recorded for droughts show only in the Horn of Africa and in the southeast of the continent; there is incredible under-reporting of loss in Africa — it is invisible where there is no documentation.
This is another challenge for Africa — how do we note, record and communicate loss? Because if we don't, nobody else will. Some who prepare global risks perception documents might not expect some threats to affect them or to happen where they are located. For example, rapid urbanisation might be seen as having a small effect elsewhere, but Africa is one of the most rapidly urbanising regions, so it will have a powerful effect for many people on this continent.
Other threats that might not be a high priority elsewhere are being documented by the media in SA. These include failure of critical infrastructure, state collapse and corruption, water crises and climate change, food crises, economic disparity and mismanaged urbanisation. Contexts for disasters sometimes start a very long time before the occurrence of the event that triggers what we have misleadingly come to call a "natural disaster". And corruption is an insidious contributor to that process.
WE need to look at threats (outlined by global risk companies) and reflect on them — are these the seeds of our future disasters? How can we take advantage of the in-depth thinking that has already been done in the business world? How do we reconcile the differences in perception of upcoming risk coming out in the UN International Strategy for Disaster Reduction processes and the World Economic Forum?
Since the use of fossil fuels, the global population has blossomed and become the biggest threat to geo-political stability and environmental wellbeing. Few organisations are openly addressing this issue as it is considered to be politically sensitive. Given the pace at which we have to adapt, we cannot afford to ignore this. There will be close to nine-billion people on Earth in a very short time. Already we are estimated to have one-and-a-half times the carrying capacity.
All of this talks to concepts of resilience and sustainability. We have to ask ourselves whether sustainable economic growth is an oxymoron. Is the model of sustained economic growth possible, given the last five to six years of history? Energy drives economic development and change, with water the primary resource. There is an idea that you can do something without compromise, but you can't. You have got to look at the effect on ecosystems. Who will be asked to compromise?
Individual efforts do matter. These will eventually secure political will and public support. It starts with individual efforts that make it evident that the political will must follow. That has been a big part of the success of disaster risk reduction and it is time again for individual voices — the South African and the African voice — to speak coherently about themselves.
• Hay, a hydrogeologist and disaster risk reduction expert is founder and MD of applied science consultancy Umvoto Africa