Uganda: Confusion as NRM registers members
By MARTINS E. SSEKWEYAMA & DAN WANDERA, Friday 22 May 2015 , Daily Monitor (Uganda)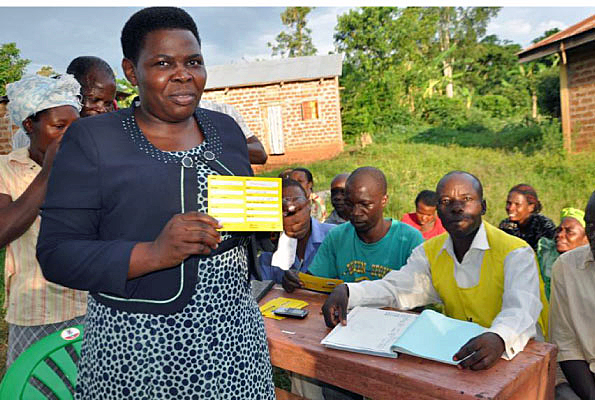 BUKOMANSIMBI/LUWEERO- NRM party leaders in Bukomansimbi District have disagreed over the ongoing registration exercise of its members with one camp accusing the other of registering non-members. Hajj Idi Lubyayi, the party district chairperson, claims some party members, who are eyeing political offices, are coercing party registrars to include non-members in the "yellow book". Speaking to Daily Monitor on Wednesday, Mr Lubyayi said much as the registration was supposed to be carried out by independent persons, some "self-seekers" have hijacked it, thus messing it up.
Mr Lubyayi explained that there is a group of people moving around the district, confiscating the yellow books from registration centres where they are allegedly registering only people they presume to be supporters of Ms Ruth Katushabe. The latter is seeking to challenge Mr Lubyayi in the NRM primaries for the newly created Bukomansimbi North constituency seat. When contacted by telephone, Ms Ruth Katushabe accepted having political interests in the area, but distanced herself from allegations of disorganising the registration exercise.
"I haven't involved myself in such irregularities. I am not a party registrar and those people are simply using me as a scapegoat, ignore them," she said before hanging-up. Meanwhile, in Luweero District, NRM supporters who fail to register with the party will have no chance of participating in the party electoral process, including elections of the village committees.
The NRM treasurer, Ms Rose Namayanja, says the party has made arrangements for each of its supporters to own a party card. "The ongoing registration of all NRM supporters is supposed to help us avoid past mistakes. No party supporter will be allowed to participate in the coming electoral process after failing to register," Ms Namayanja told the party members at Bukakala village in Semuto Sub-county where she registered.
Mr Alex Ssekigudde, the NRM registrar for Kitanda Sub-county, agreed with Mr Lubyayi's claims saying his area has for the last four days witnessed chaotic scenes with some members blatantly violating the guidelines to forcefully register members.