Africa robbed of about R500bn each year through illicit capital outflows
By Setumo Stone 22 MAY 2015, Business Daily (South Africa)
AFRICAN leaders have hammered their corrupt colleagues and crooked business people for robbing the continent of as much as R500bn through illicit capital outflows. A discussion on the topic on Thursday was prompted by a report which former president Thabo Mbeki tabled during a Pan African Parliament sitting.
Mr Mbeki's report was expected to provide guidelines on how African governments could stem the bleeding as they sought to come up with new laws to achieve this objective. Transfer pricing, trade misinvoicing and other misdeeds were among the ways in which Africa lost much-needed revenue.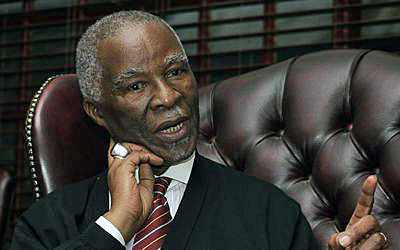 At least R500bn a year flows out of the continent undetected through fraudulent schemes which enable multinational companies to rob some of Africa's poorest countries of tax money, according to Mr Mbeki's report. In February, the African Union summit held in Ethiopia endorsed Mr Mbeki's report, which was commissioned in 2011, and adopted it into the meeting's declaration as an area of focus.
On Thursday, Mr Mbeki told the Pan African Parliament, which was sitting in Midrand, Gauteng, that new laws clamping down on illicit cash outflows presented "a possibility of getting large resources into our hands" and urged that the report not be allowed "to gather dust". "We are not begging. It is our money. The money could be used to deal with poverty and unemployment," he said.
Having toured the continent while compiling the report, Mr Mbeki was content that, at least on paper, "all our governments have said: 'We accept and we are ready to act on these issues'." The Pan African Parliament was "a very important voice" towards driving the implementation of the report and its MPs should do oversight, he said.
"The Pan African Parliament must make itself an activist on this issue, become a nuisance, so that we are able to deal with the issues of political will," said Mr Mbeki. Although MPs were unanimous in their support of Mr Mbeki's report, one official highlighted "the colossal challenge is the scrupulous implementation of the document".
A Nigerian representative said the country traced funds that had been "looted" by former leader General Sani Abacha to Switzerland. It had been difficult, however, to get Switzerland to give the money back, the representative said. African states should consider passing laws to nationalise multinationals involved in illicit capital outflow, the Nigerian representative proposed.
MP and Economic Freedom Fighters chief whip Floyd Shivambu said the primary challenge for African countries was that they neither owned nor controlled their natural resources. Mr Mbeki, however, brushed off talk that "major Western countries" should be taken to task for allowing illegal money to be kept within their borders, saying states like the US had also grappled with the same issue.
"They themselves are complaining about the same thing. "They found that they are losing money because their own multinationals … make profit all over the world but it ends up in tax havens," he said.
The West was "engaged and interested to co-operate (with Africa)", he said.